By Wealth Trust Securities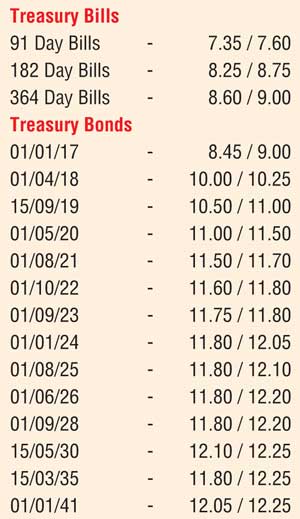 The secondary bond market closed the day on a bullish note yesterday despite Sri Lanka's country rating been downgraded and its outlook changed from stable to negative. Yields on the liquid maturity of 01.09.2023 was seen dipping to an intraday low of 11.80% from its opening high of 11.91% while the 01.08.2021 maturity was seen changing hands within the range of 11.50% to 11.55% on the back of moderate volumes changing hands. This was ahead of today's weekly Treasury bill auction, at where a total amount of Rs.20 billion will be on offer consisting of Rs.5 Billion on the 91 day, Rs.8.0 billion on the 182 day and Rs.7.00 billion on the 364 day maturities respectively. At last week's auction, weighted averages increased by 50 and 55 basis points respectively on the 182 day and 364 day maturities to 8.07% and 8.50% while the 91 day maturity was not on offer.

Meanwhile in money markets, the surplus liquidity of Rs.40.64 billion saw overnight call money and repo rates averaging at 7.51% and 7.02% respectively yesterday.


Two-way quote on the Rupee narrows

The two-way quotes on the active one week forward contracts were seen closing the day narrow at Rs.144.85/95 against its previous day's closing of Rs.144.80/00 while spot next contracts were quoted at Rs.144.75/90. The total USD/LKR traded volume for the 29th of February 2016 was US $ 52.93 million. Some of forward USD/LKR rates that prevailed in the market were 1 Month - 145.55/75; 3 Months - 146.90/10 and 6 Months - 148.95/10