The Bank of Ceylon's Annual Report 2015 won the 'Best Presented Annual Report Award' in public sector Banking Institutions category becoming first in the SAARC Region at the South Asian Federation Accountants (SAFA) Awards Ceremony held in Dhaka Bangladesh recently.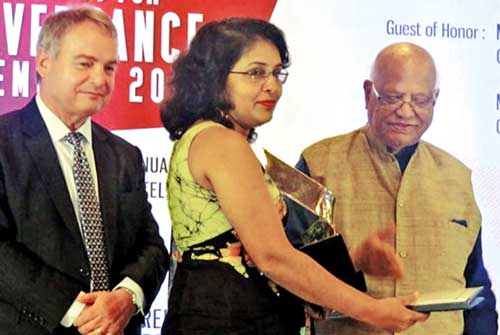 The bank's Secretary to the Board Janaki Senanayake Siriwardane received the award from Minister to the Ministry of Finance, Bangladesh Abdul Maal Abdul Muhit. South Asian Federation of Accountants (SAFA) is an Apex body of SAARC and an acknowledged accounting grouping of the International Federation of Accountants (IFAC). The awards are granted on the basis of improvement in transparency, accountability and governance in financial reporting.

SAFA Awards recognises organisations in the region that achieved excellent standards in accordance with the framework stated by the International Accounting Standards Board (IASB) in preparation of financial statements. Awards are presented in nine categories which are: public sector banking institutions, private sector banking institutions, insurance sector, financial services sector, manufacturing sector, communication and information technology sector, services sector, non-governmental organisations and agricultural sector.

The bank's 2015 annual report was themed as 'Taking Charge of Change' as it was the time where BOC took bold and conscious steps towards digital inclusive transformation. As a prudent bank, BOC always maintains its financial reporting standards to comply with the standards set by regulatory bodies and international reporting guidelines for financial institutions such as banks. They include and are not limited to reporting standards such as International Integrated Reporting (IIR) framework issued by the International Integrated Reporting Council and G4 guidelines issued by the Global Reporting Initiatives (GRI) for sustainability reporting. "Being a public owned bank that has maintained an excellent record and a steadfast reputation throughout its 77 years in banking, transparency and accountability matters very much in our business. We ensure that we maintain all our reporting at the required standards so that they represent the manner we maintain our reputation and integrity," stated General Manager D.M. Gunasekara. The bank won Corporate Governance Disclosure in public sector Banking Institutions for its Annual report 2013 as well.