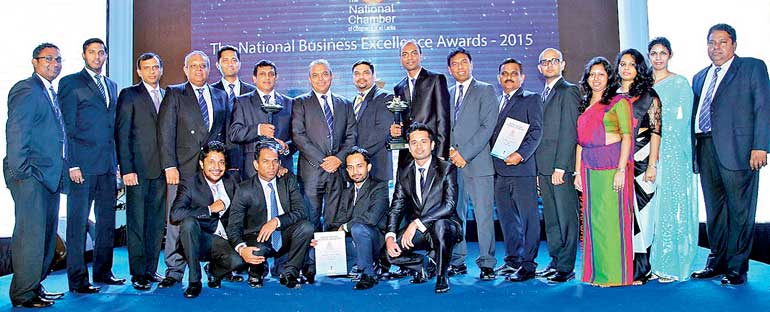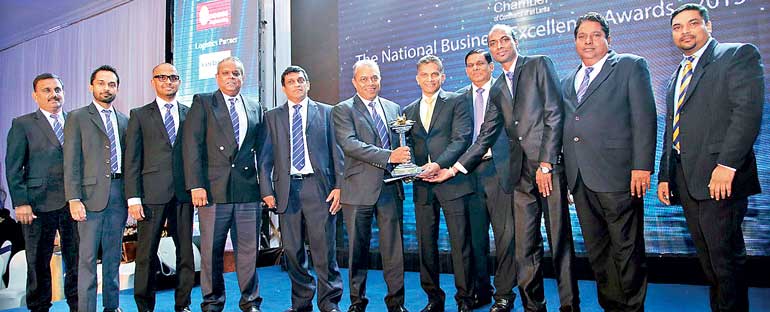 Asian Alliance Insurance PLC clinched two prestigious awards – a Gold in the Insurance category and a Silver in the Overall Large Companies category – at the 2015 National Business Excellence Awards, thereby increasing the tally of prestigious international and national awards bagged by the company.

The two latest awards from the National Chamber of Commerce of Sri Lanka, which recognised Asian Alliance Insurance's excellence in business and contribution to the economic progress of the country, conclude a remarkable month for the insurer. In early November, the company overcame competition from giants in the insurance sector in Asia to receive the highly prestigious award for 'Innovation of the Year' at the Asia Insurance Awards and thereafter also won a Bronze Award in the Life Insurance category at the Sri Lanka Institute of Marketing (SLIM) Brand Excellence Awards 2015.

"Asian Alliance Insurance takes great pride in these prestigious accolades based on diverse criteria, which recognise our excellence in an array of key areas of operations," Managing Director Iftikar Ahamed said. "More important than the awards themselves, the entire Asian Alliance Insurance team takes pride in the vast progress that we have achieved in many fronts, which has culminated in recognition at international and national level. These awards also serve as a motivator for us to keep raising the bar further, especially with regard to enhancing customer convenience."

The National Business Excellence Awards, this year's edition of which was held recently at the Hilton and followed by a gala dinner, annually recognise and reward Sri Lankan organisations that have excelled in all-round performance. The awards are given following a three-tier evaluation process which includes review of applications by a technical panel, interviews and an assessment by an independent panel of judges. A range of criteria is taken into account including Corporate Governance, Capacity Building, Performance Management, Global and Local Market Reach, Corporate Social Responsibility and Environmental Sustainability and Business and Financial Results.

Earlier in November 2015, Asian Alliance Insurance won the 'Innovation of the Year' at the 19th Asia Insurance Awards – the only event of its kind in the region – for its revolutionary 'Click2Claim' solution that 'eliminated the traditional accident claim process in motor insurance and brought revolutionary change to Sri Lanka's motor insurance industry'.

The company was honoured at the SLIM Brand Excellence Awards (in the Life Insurance category) based on its strong scorecard in brand performance, business performance, the distinctiveness of the brand in the market, marketing strategy and competitive strategy.

Asian Alliance Insurance is part of the Softlogic Group, which is recognised as one of Sri Lanka's most diversified and fastest-growing conglomerates with interests in Healthcare, Retail, ICT, Leisure, Automobiles and Financial Services. Significant stakeholders in the company also include FMO and DEG that are rated 'AAA' Development Financial Institutions from the Netherlands and Germany respectively.