Reuters: Asian stocks held near four-year lows and crude oil prices approached a 20% drop in less than two weeks, as investors remained wary of China's volatile financial markets.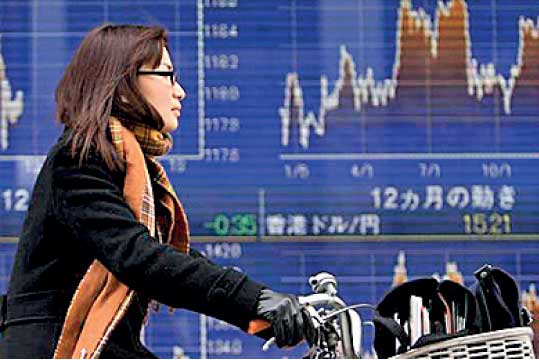 European markets are set to open flat to slightly higher, with Britain's FTSE 100 to open 0.5% up, Germany's DAX to gain 0.8%, and France's CAC 40 to rise 0.7%, according to IG.

MSCI's broadest index of Asia-Pacific shares outside Japan gave up early gains to trade 0.2% lower, just shy of its lowest level in four years. It is down more than 8% since the start of 2016. It fell 12% last year.

"Investors are still concerned about the extent of China's slowdown and while we may be in the middle of a consolidation phase, we have yet to see any data indicating a turnaround which is feeding the overall uncertainty," said Ben Pedley, head of investment strategy for Asia at HSBC Private Bank in Hong Kong.

With investors still licking their wounds from last year's plunge in global commodity prices and a sharp sell-off in Chinese markets, 2016 has brought about more pain for investment portfolios in the form of a deepening slowdown in the global economy and volatile Chinese markets.

Japan's Nikkei fell 2.7% after a market holiday on Monday, closing at its lowest in nearly a year, while U.S. stock mini futures were in the red pointing to a weak start.

Beijing set another firm fix for its currency and stepped up a verbal campaign, backed by what dealers said was aggressive intervention by state-owned banks to steady markets.

According to MSCI global indexes, BRIC and other emerging market indexes have bled the most so far this year; the BRIC index has lost 7.2% and emerging markets, 6.8%. MSCI's broadest gauge of world stocks fell to its lowest since September 2013.

On Wall Street, the S&P 500 managed to stabilise on Monday after three straight days of one-percent-plus declines, ending the day up 0.1%.

"It is a good sign that U.S. shares bought back in late trading to end in positive territory ... Maybe they were helped by the view that the Fed may not be able to raise rates when markets were gripped by fear over China and falling oil prices," said Masahiro Ichikawa, senior strategist at Sumitomo Mitsui Asset Management.

Indeed, money market futures are starting to price out the chance of multiple rate hikes by the Federal Reserve this year, with only a roughly 50% chance of a second hike priced in. At the start of the year, futures were fully pricing in two rate increases.

The market is far from convinced that the Fed is going to raise rates in March, after implementing its first rate hike in almost a decade only last month.

"Interest rate differentials don't mean anything at the moment. Risk sentiment, oil prices, and China - people are just focusing on that now," said KaneoOgino, director at foreign exchange research firm Global-info Co in Tokyo.

Commodity prices remained under severe pressure, with oil prices hitting new 12-year lows on concerns about slow demand and oversupply - including U.S. shale oil production and a likely supply increase from Iran with sanctions lifted.

U.S. crude futures marked a fresh 12-year low of $30.64 per barrel on Tuesday, down more than 17% so far this year. Brent futures fell to $30.73 per barrel, also a 12-year low.

Copper, seen as a good gauge of the strength of the global economy because of its wide use, edged higher from a 6-1/2-year low on Monday to rise to $4,389 a ton.

Commodity-linked currencies stayed under pressure. The Australian dollar dipped 0.2% in early trade to $0.6980 after a small bounce on Monday, edging towards the four-month low of $0.6927 set earlier on Monday.

The Canadian dollar hit a 12-1/2-year low of C$1.4245 to the U.S. dollar on Monday and last stood at C$1.4225.

The dollar was firmer against other major currencies.

The euro traded at $1.0805, having slipped 0.6% on Monday. The yen, which had been buoyed by safe-haven flows, also stepped back from a 4-1/2-month high touched on Monday at 117.47 yen to the dollar.