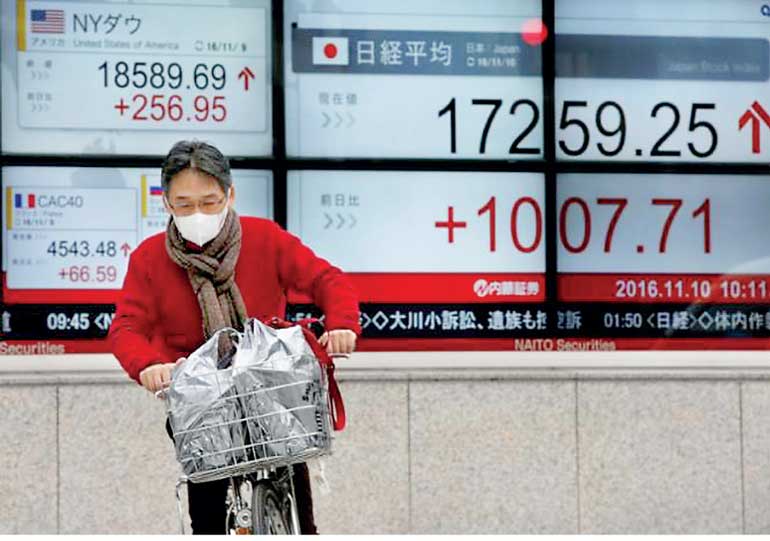 Reuters: Asian stocks rose to 3-1/2-month highs on Thursday, cheered by the Dow Jones Industrial Average breaching the 20,000-level for the first time, though concerns about U.S. President Donald Trump's protectionist stance kept the dollar on the defensive.

MSCI's broadest index of Asia-Pacific shares outside Japan rose 0.7% to its highest since Oct. 11.

South Korea's Kospi advanced 0.9%, Hong Kong's Hang Seng climbed 1.2% and Shanghai edged up 0.2%.

Japan's Nikkei brushed aside a stronger yen to rise 1.4%.

"Today's excitement mainly comes from strong U.S. stocks overnight, but people are also positive about Japanese companies' earnings especially machinery manufacturers," said Takuya Takahashi, a strategist at Daiwa Securities in Tokyo.

The Dow closed atop the 20,000 mark for the first time overnight as solid earnings and optimism over Trump's pro-growth initiatives revitalised a post-election rally.

Safe-haven U.S. Treasuries were duly sold as risk aversion ebbed and the benchmark 10-year note yield rose to a four-week high on Wednesday. Subdued investor demand at a five-year auction also hurt Treasuries.

The dollar was little changed at 113.425 yen after losing 0.5% overnight.

It had soared to a 10-month high of 118.660 in mid-December at the apex of the dollar-boosting Trump trade, when the market focus was on bets of more fiscal stimulus and reflationary measures under the new administration.

The euro was steady at $1.0755 after gaining 0.2% the previous day. The common currency had risen to a 1-1/2-month high of $1.0775 on Tuesday against the struggling dollar.

The pound extended its overnight rally and touched a six-week high of $1.2648.

Gold was on track for a third straight day of losses as the risk-on mood in the global markets reduced demand for the precious metal. Spot gold was down 0.1% at $1,198.60 an ounce, pulled back from a two-month high of $1,219.59 scaled on Tuesday.