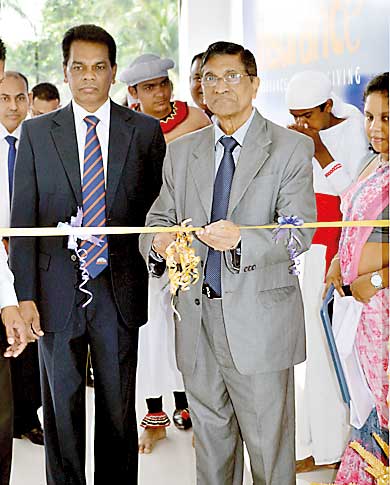 Arpico Insurance PLC which is part of the Richard Pieris & Co. PLC recently expanded their branch network by opening four new branches in the Western, Central & Sabaragamuwa provinces. As per its management statement, the company which has been in business for the past 4 years in the country is now in a position to cater to its growing number of clients by establishing its presence in key locations in Kegalle, Kandy, Kottawa and Kadawatha.

The Kegalle branch was opened in late 2015 by Group CFO and Director Arpico Insurance Jagath Dissanayake. Whilst Richard Pieris & Co. Group Director Professor Lakshman Watawala was present at the inauguration of the Kandy Branch, both the Kottawa and Kadawatha branches were opened by Richard Pieris & Co. Group Director and Director of Arpico Insurance Viville Perera.

Having achieved a record breaking premium income of Rs. 100 million only within its first year of operation has been marked as the highest in the industry. Continuing its dynamic trend Arpico Insurance PLC has been able to achieve figures of Rs.206 million, Rs.298 million and Rs.483 million for its 2nd, 3rd and 4th financial years respectively.

Total GWP achievement increased by Rs.185 million to a total of Rs.483 million during 2015, and from Rs.298 million in 2014 reaching a commendable growth rate of around 62%.

Arpico insurance has built its business on identifying the risks that its customers face, creating the right kind of workable solutions, and providing quick response when it's needed the most. It operates on a simple yet effective business model. The company is committed to help their customers reduce risk, first by understanding it and then by taking the required preventive measures and upholding their brand promise of providing "Insurance for the living".

Richard Pieris & Co. PLC is a diversified business conglomerate with a rich history of 84 years. Its flagship brand "Arpico" is one of the most powerful local household brands in Sri Lanka for over 50 years, serving the community with a diverse range of products across many sectors such as manufacturing, plantations, financial services, exports, FMCG, construction, logistics & retail.

The retail sector led by its flagship brand "Arpico Supercenters" operates a growing network of outlets spread island-wide.

A diverse melting pot of talent, comprising a workforce of over 35,000, Richard Pieris & Company PLC is one of the largest employment providers in the private sector in Sri Lanka.