Ananda Sirisena & Company, a registered corporate secretaries and incorporator recently concluded successfully incorporating its 250th company in to the local business fraternity. Having identified the need for a knowledgeable partner for companies that are looking to do things the right way from the inception itself, Ananda Sirisena & Company offers a comprehensive company registration package to anyone who wishes to start up a company in Sri Lanka.

Initially established to serve the long standing clientele of S. Ananda Sirisena, a Registered Company Secretary, Ananda Sirisena & Company has for over 30 years provided comprehensive end-to-end solutions to clients including and not limited to company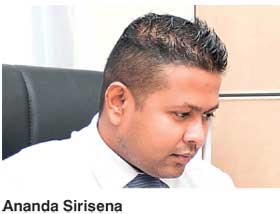 registration documentation, processing banking requirements, obtaining business addresses and other documentation etc. All this leads to creating a corporate legal personality that is ready to take on the current complex business world.

Working for many years with well-known clients such as CarMart Group, BAM Holdings, Odiris Engineering, Takas, Uswatta Confectionery, Solex, Lalanka Group and the A.S.P. Group among many others, Ananda Sirisena & Company is today in the forefront of assisting new businesses take the first few steps.

Apart from these services, Ananda Sirisena & Company also prepares company and business profiles, while offering book-keeping services, payroll processing, business processes re-engineering, reviews of existing accounting systems, and the preparation of management accounts.

Executive Director of Ananda Sirisena & Company Ltd. Isura Sirisena notes, "It has indeed been a great pleasure for me as the second generation of this company to see our services enable businesses to get off on the right foot from the get go. Seeing businesses establish themselves the right way and then continue to adhere to regulations thereby building a positive corporate image is our end goal. We have worked with numerous companies spanning all industries and are happy to see many of them becoming successful enterprises today."

The company which was converted to a private limited entity is today run by the second generation of the Sirisena family. Registered company secretary, chartered accountant Maheshika Sirisena acts as Chairperson while chartered corporate secretary and Northwood University graduate Isura Sirisena overlooks all functions of the company as its Executive Director and Maduranga Sirisena who looks in to the systems administration and IT functions of the company as Director IT & Administration.

For more information please visit www.anandasirisena.com.