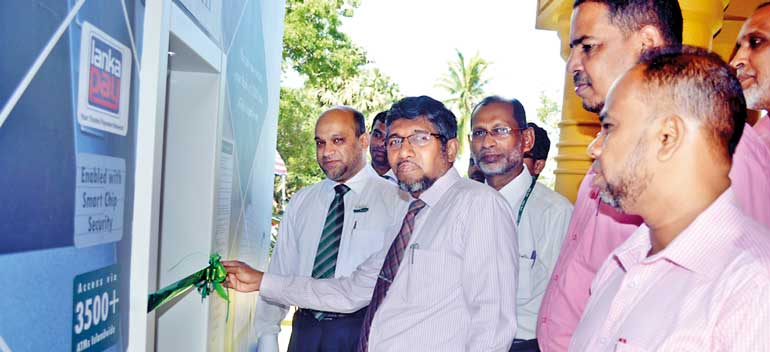 Amãna Bank recently launched its fifth remote ATM at the South Eastern University of Sri Lanka in Oluvil. This offsite ATM marked the bank's 34th ATM, allowing customers in the vicinity to access their accounts 24 hours a day providing greater convenience and accessibility.

The offsite ATM was declared open by the bank's Vice President – Operations and SME Banking M.M.S. Quvylidh along with the Vice Chancellor of the University Prof. M.M.M. Najim.

Commenting on the launch of the offsite ATM, Quvylidh said, "Over the last few years, Amãna Bank has received an overwhelming demand and acceptance in the Eastern Province. To facilitate greater access and convenience to our customers, we launched the concept of remote ATMs in the Eastern Province. The ATM at the Oluvil University marks our third off-site ATM in the Eastern Province in addition to having the province's first drive through ATM at Kalmunai."

Along with the 34 ATMs of Amãna Bank, customers can easily access another 3,700+ ATMs through the Lanka Pay Network using the bank's Debit Card. Further the bank's VISA Debit Card also provides access to over two million ATMs in more than 200 countries and territories across the world, while also being globally accepted at millions of merchant locations. Customers can keep a tab of their ATM and merchant transactions by subscribing to the SMS alert service offered as a feature of added security and convenience, free of charge.

Amãna Bank PLC is the first Licensed Commercial Bank in Sri Lanka to operate in complete harmony with the non-interest based Islamic banking model. Fitch Ratings, in October 2015, affirmed the bank's National Long Term Rating of BB(lka) with a Stable Outlook.