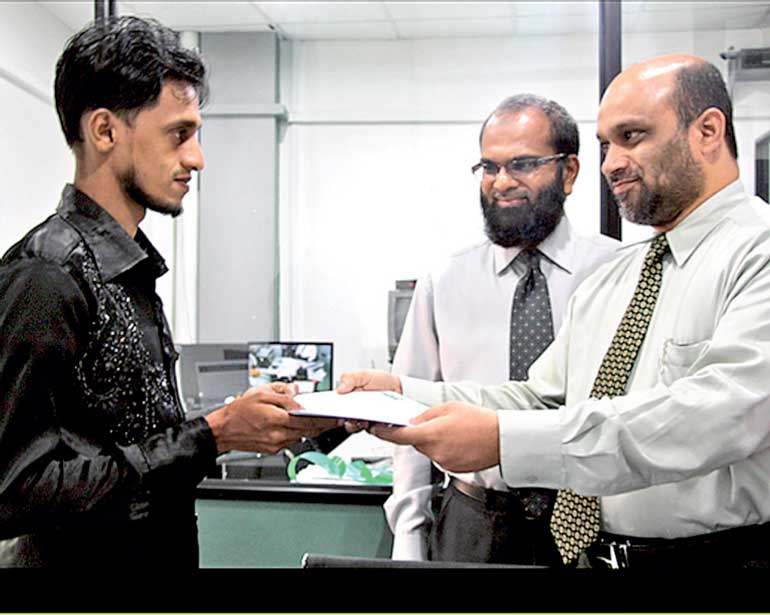 Amãna Bank VP Operations & SME Banking M M S Quvylidh handing over a Gold Safekeeping certificate to a customer as CEO Mohmed Azmeer looks on.
Amãna Bank, offers Gold Certificate Financing as an innovative alternative for conventional pawning. Gold Certificate Financing is a unique product in the Islamic Finance industry which is simple, safe and easy solution that unlocks the value of gold jewellery without selling it.

Commenting on this novel product, Amãna Bank's Vice President Retail Banking & Marketing Siddeeque Akbar said, "Instead of selling or disposing of your hard-earned gold that may appreciate with time, customers can now obtain this facility which operates as two separate models offered independently. Accordingly, the first product 'gold safekeeping' operates as a safe-custody service for gold jewellery, while the second product 'emergency cash' operates as an instant loan, which can be backed by the certificate issued for safekeeping of the gold jewellery."

The Gold Certificate financing product serves the un-banked and under-banked segment with the objective of facilitating convenient credits at a grassroots level to help fund personal as well as micro industries.

Customers can obtain this service from 18 Amãna Bank branches located in Pettah, Kattankudy, Kalmunai, Galle, Akurana, Gampola, Sammanthurai, Mawanella, Akkaraipattu, Dehiwela, Ninthavur, Kuliyapitiya, Eravur, Negombo, Badulla, Puttalam, Kinniya and Ratnapura while seven more branches are to facilitate this service in the coming months. Amãna Banks Gold Certificate Financing Product was recognised on a global scale when it was listed in the Global Finance Magazine Innovator 2016 Index and received the Gold Award for the Best Islamic Banking Product at the 4th Sri Lanka Islamic Banking and Finance Industry Awards.

Amãna Bank is Sri Lanka's premier licensed commercial bank operating on the non-interest based banking principles was recognized as the Best 'Up-and-Comer' Islamic Bank of the World by 'Global Finance Magazine' at the 18th Annual World's Best Banks Award Ceremony held in Washington DC, USA. The bank was also bestowed the coveted title 'Islamic Finance Entity of the Year 2016' at the inaugural Islamic Finance Forum of South Asia Awards Ceremony held in July. Fitch Ratings, affirmed the Bank's National Long Term Rating of BB (lka) with a stable outlook. Powered by the stability and support of its strategic shareholders including, Bank Islam Malaysia Berhad, AB Bank in Bangladesh and Islamic Development Bank based in Saudi Arabia, Amãna Bank is making strong inroads within the Sri Lankan banking industry and is focused on capitalising the growing market potential for its unique banking model across the country.