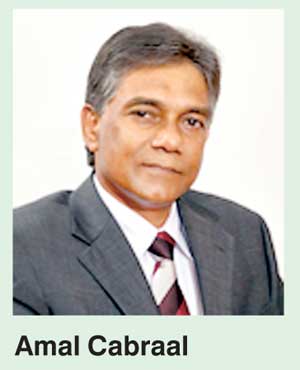 Amal Cabraal faced a shareholder vote on his way to being re-elected as a Director at Hatton National Bank's Annual General Meeting last week.

He was first appointed as a Non-Executive Director to the HNB Board in April 2014 and was up for re-election. Though two other directors too were up for re-election, Cabraal was re-elected by a majority vote of shareholders. The two who were re-elected unanimously were Sanjivani Jayawardene and Rusi Captain.

Cabraal is the former Chairman and CEO of Unilever Sri Lanka. He has over three decades of business experience in general management, marketing and sales in Sri Lanka and overseas. He is an alumnus of INSEAD-France and holds an MBA from the University of Colombo. A Chartered Marketer by profession and a Fellow of the Chartered Institute of Marketing, UK, he is presently the Non-Executive Chairman of the CIC Feeds Group of Companies and serves as an independent Non-Executive Director of John Keells Holdings Plc, Ceylon Beverage Holdings Plc, Lion Brewery (Ceylon) Plc, Silvermill Investment Holdings Ltd. and the Supervisory Board of Associated Motorways Ltd. He is a committee member of the Ceylon Chamber of Commerce and serves on the Management Committee of the Mercantile Services Provident Society.