Union Bank Deputy Chairman Alex Lovell has retired from the Board with effect from 27 September 2016.

The move completes his 9 year service period as per Central Bank good governance direction to commercial banks. He holds a 2% stake in the bank.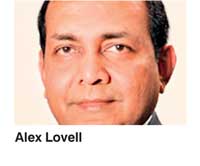 Lovell was appointed to the Board in 2007 as a Non-Executive Director and was appointed as the Deputy Chairman in December 2010. He was appointed Chairman in May 2012 until November 2014. Subsequent to the strategic investment by TPG (investment held via Culture Financial Holdings Ltd), one of the leading global investment firms, with $65 b in assets under management, he was appointed as Deputy Chairman effective from November 2014.

He counts over thirty years of experience in finance and investment banking. Lovell is a Chartered Management Accountant, UK and holds a Post Graduate Degree in Business Administration. He was awarded the MBE (Most Distinguished Order of the British Empire) by the Queen of England for services to Investment Banking.