Tuk tuks are a common feature in many of the 18 markets across Asia in which AIA, Asia's leading life insurer, operates. Often the bane of many a vehicle driver, these whizzing wheelers are a sure relief to pedestrians looking for a fast way through the traffic.

While it is a typically Asia phenomenon, surely you'd agree that Sri Lankan tuk tuks boast a unique characteristic. Thanks to them you know that 'Who flies high, falls not low', 'Only one sun shines for all' and you should 'win without boasting, lose without excuse'. Not to forget that 'Life is not a game, (so) don't play it'"!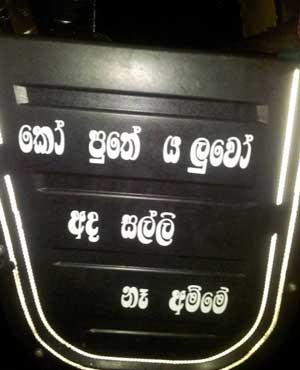 Famed for their cryptically profound slogans, these tuk tuks elicit a reaction from and leave a lasting impression on all of us. Be it a tribute to 2pac, solidarity with Bob Marley or a reminder that Che Guevara 'wants you to rebel'….tuks tuks are a common slate for social messaging and instigation.

While the (often erroneously spelled) English slogans take on a more ideological and advisory stance, reminding you that 'too much of anything is good for nothing', Sinhala scripts, known as 'tuk tuk wadan' tend to be a more crude and realistic commentary on some hard social facts. For example, 'hitapu kaelith na, athe sathe na, thaththa neththan mekath na'! This articulates a common Sri Lankan phenomenon, that of young adults beings dependent on their parents, with no apparent financial security for the future.

Another common phrase is 'jeevithe mal, amma inna kal'! Again, this highlights the prevalent problem of youth not thinking about let alone planning for their future, but instead being complacent with the provisions from their parents. Of course, if you read into the rhetoric a little deeper, you may see it as a wakeup call to realise that in fact, your parents won't be around forever and it will serve you well to start planning for your future. Yet another sardonic saying 'ko puthe yaluwo? Ada salli ne amme', emphasises that monetary security plays a pivotal social role.

While these quotes are often steeped in satire and cynicism, it does provide sound insights into social concerns and how much emphasis is placed on financial security. More importantly, it conveys the importance of bridging the gap, between what you have and what you will need, by pointing out the reality that life could lose its zest if you're not financially secure.

As Asia's leading life insurer, AIA understands Sri Lankan society and it's deeply rooted concerns. Financial independence and security are foremost on most people's minds. Yes, my parents are there to look after me now, but what will I do when they are no longer around? Or on the flip side, yes, I am there for my children, but how will they manage without me? The core thought is universal. Protecting self and family and securing the future, is a perennial concern, which is clearly voiced through the platform which is the Lankan tuk tuk.

So the next time you see a scurrying tuk tuk darting across the road, have a good look and see what prudent messaging it may have. Who knows, you may just learn something new! And if you like to take it a step further and want to know more about financially securing the future for yourself and your family, then call us on 2310310, and we'd be happy to help.