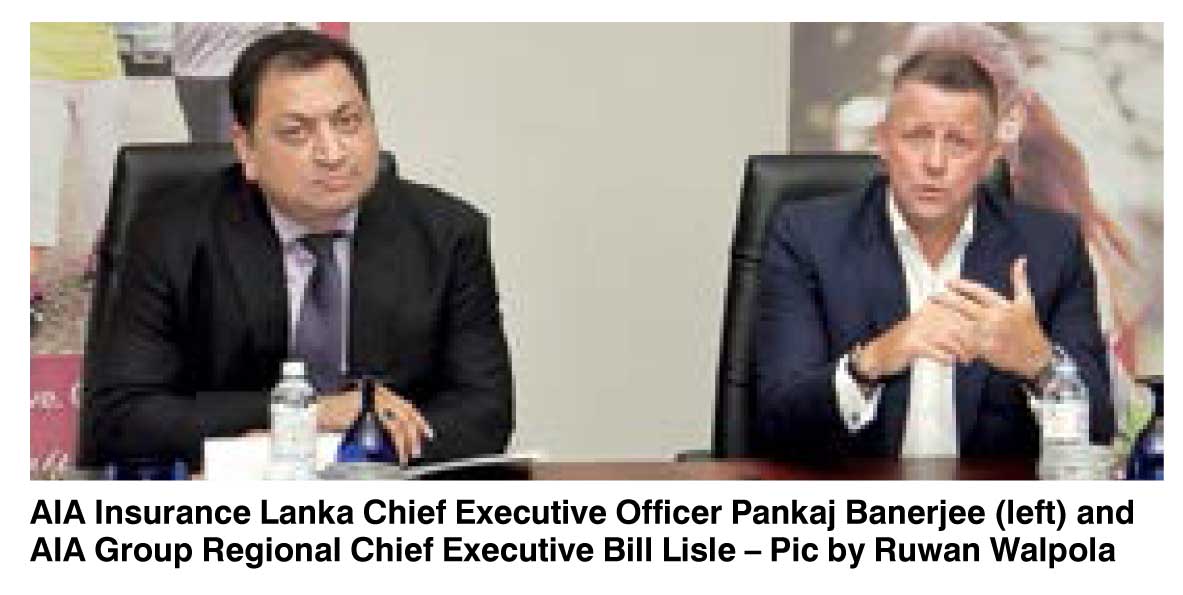 By Charumini de Silva

Capitalising on the vast under-served life insurance market in Sri Lanka, AIA Group said it was set to bring in its global expertise to increase life insurance penetration in the country.

As economic landscapes and the disposal income of people are improving significantly, the life insurance sector has much potential for development in Sri Lanka said AIA Group Regional Chief Executive Bill Lisle insisting that the company is committed to grow and prosper in the life insurance segment in the country.

He made these remarks in Colombo announcing their latest science-backed wellness program 'Vitality' which encourages people to become healthier and engage to create awareness of the importance of a life insurance.

Lisle asserted the acquisition to Sri Lanka's business was a clear indication that AIA is not only interested in the people or the booming economy, but the opportunities in the financial services which could be developed over the next 5 to 15 years.

"Sri Lanka is at a bright spot, which is well positioned in Asia. We have never left a market that we have entered into. Once we enter a market we enter for good and for bad. We are there for life," he added. Considering the dramatic social and economical structures, Lisle opined that a minimum level of life insurance should be made compulsory in the country.

"20 years ago parents were completely depending on their children after retirement in all over Asia, but have fundamentally changed now. Today most of the children that go abroad for studies aren't returning and therefore parents are left on their own retirement plans," he explained.

Noting that Sri Lanka's life insurance penetration levels were around 23% to 25%, AIA Insurance Lanka Plc CEO Pankaj Banerjee said that being the second largest life insurer in the world, the company would help take penetration levels into much higher numbers in the next couple of years.

Commenting on the life insurance penetration he stressed that the premium to GDP ratio in Sri Lanka is less than 0.5% at present which is quite low compared to other economies in Asia that have similar kind of GDP per capita as Sri Lanka.

According to him the other regional countries have a premium to GDP ratio at least two times penetration than in Sri Lanka. However, Banerjee emphasised that they are optimistic about the long term potential that the Sri Lankan market has to offer.

"We have seen how markets evolve in different markets and with AIA's expertise globally, we are committed to grow and expect to focus on life, pension and health insurance areas," he stated.

AIA is currently the second largest life insurer in the world and the largest independent publicly listed Pan-Asian life insurance group. At present the firm has 45 million customers with a market capitalisation of $ 80 billion.