By Wealth Trust Securities

Activity in the secondary bond market continued to remain sluggish yesterday's due to the "wait and see" policy adopted by most market participants ahead of today's Treasury bond auctions. The auction will have on offer a total amount of Rs. 10 billion consisting of Rs. 2 billion on a five year maturity of 15.12.2020, Rs. 3 billion on a 9.07 year maturity of 01.08.2025 and Rs. 5 billion on a 19.03 year maturity of 15.03.2035. The previously recorded weighted averages for these maturities or similar maturities were 8.91%, 10.38% and 10.50% respectively.

In secondary market bonds, active two way quotes were mainly seen on the 15.09.2019, 01.05.2020 and 01.09.2023 maturities while quotes on the long end of the yield curve were seen widening.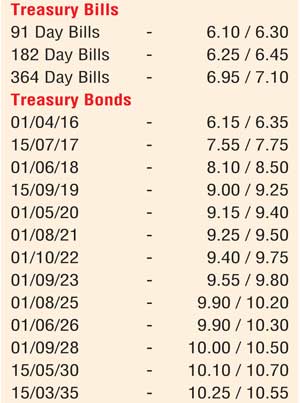 Meanwhile in money markets, the overnight call money and repo rates remained steady to average 6.30% and 5.96% respectively yesterday as surplus liquidity in the market dipped further to Rs. 63.57 billion. The OMO (Open Market Operations) department of Central Bank conducted an overnight Repo auction to the value of Rs. 20 billion yesterday in order to drain out liquidity further. However all bids received at the auction to the value of Rs. 6.5 billion were rejected.

Meanwhile in Forex markets yesterday, the USD/LKR rate on spot contracts dipped further to close the day at Rs. 143.60/90 in comparison to previous day's closing of Rs. 143.35/50. The total USD/LKR traded volume for 11 December was US $ 61.33 million.

Some of the forward USD/LKR rates that prevailed in the market were one month - 144.15/50; three months - 144.95/30 and six months - 146.10/50.