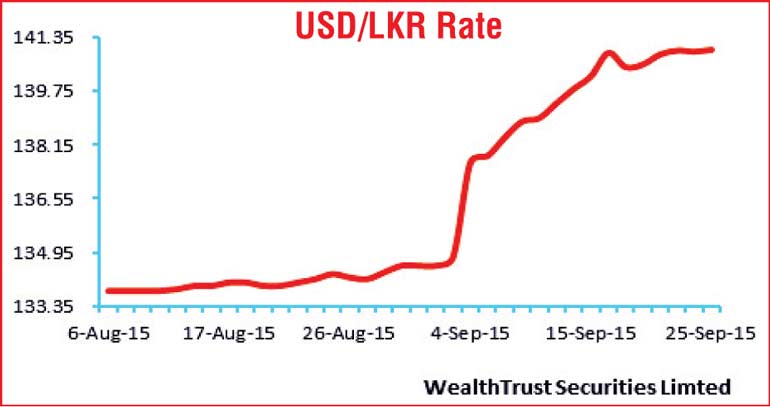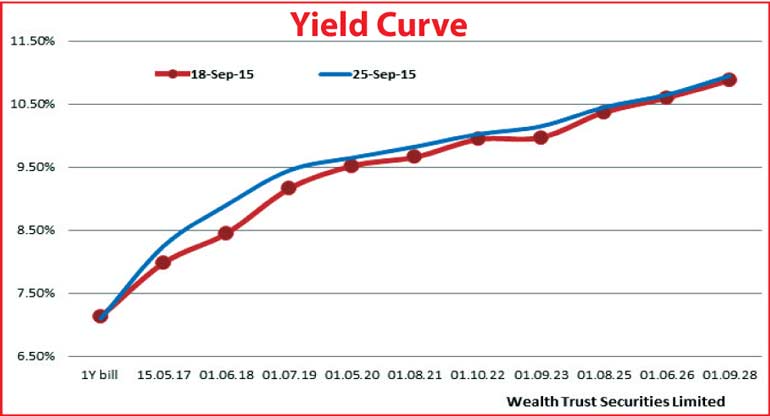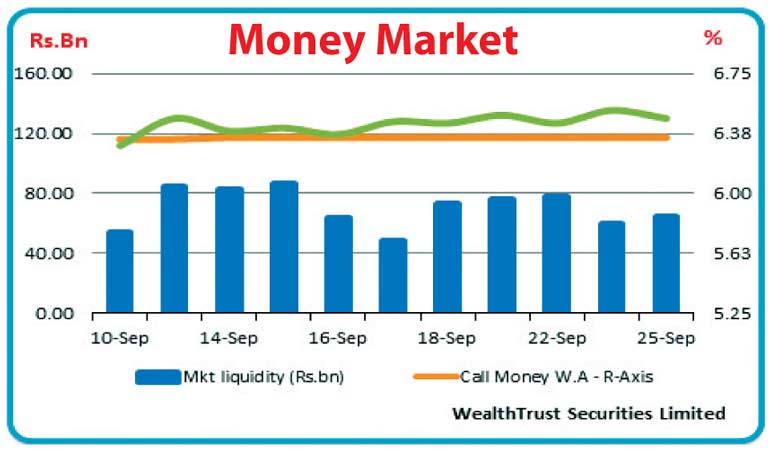 By Wealth Trust Securities

The secondary market Bond yields were seen increasing during the week due to uncertainties prevailing on the outcome of September's monitory policy announcement due at 6 p.m., 25 September, following the International Monitory Funds (IMF) staff report. This was despite the surprising outcome at the weekly Treasury Bill auction where the weighted average on the 91 day Bill dipped by 01 basis point for the first time in 17 weeks with the total accepted amount exceeding the total offered for the first time in six weeks as well.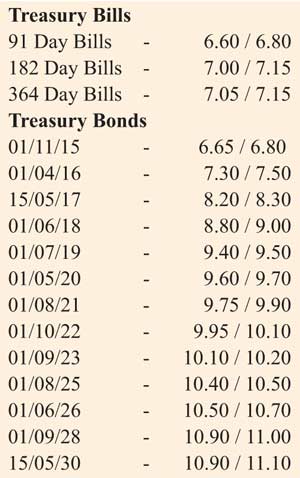 In secondary market, the Bond yields on the shorter end of the yield curve was seen increasing most as the maturities of 15.05.17, 01.06.18 and 01.07.19 were hitting intra-week highs of 8.20%, 8.80% and 9.47% respectively against its previous weeks closing levels of 7.90/05, 8.40/50 and 9.14/18. In addition liquid maturities of 01.05.20, 01.08.21 and 01.09.23 were seen increasing to levels of 9.63%, 9.85% and 10.10% respectively against its previous weeks closing levels of 9.51/52, 9.62/70 and 9.96/98.

However, activity remained rather dull during the latter part of the week as the Public Debt Department (PDD) of the Central Bank announced four Treasury Bond auctions, to be held on 28 September, consisting of maturities of 15.09.2019, 01.08.2021, 01.01.24 and 01.09.2028. The amounts on offer are Rs. 2 billion, Rs. 3 billion and Rs. 4 billion each.

Meanwhile on money markets, overnight repo rate increased further during the week ending 25 September, to average 6.48% as surplus liquidity dipped marginally to Rs. 69.58 billion for the week against its previous week's average of Rs. 71.00 billion. However, Overnight Call money rate remained resilient to average at 6.35%.


Rupee depreciates further during the week

The rupee depreciated further during the week against its last week's closing levels of Rs. 140.50/60 to an intra-week low of Rs.140.98 on the back of continued importer demand and foreign selling in government securities. The daily average USD/LKR traded volumes for the first three days of the week stood at $ 58.53 million.

Some of the forward dollar rates that prevailed in the market were 1 month – 141.63/70; 3 months – 142.80/00 and 6 months – 144.58/90.