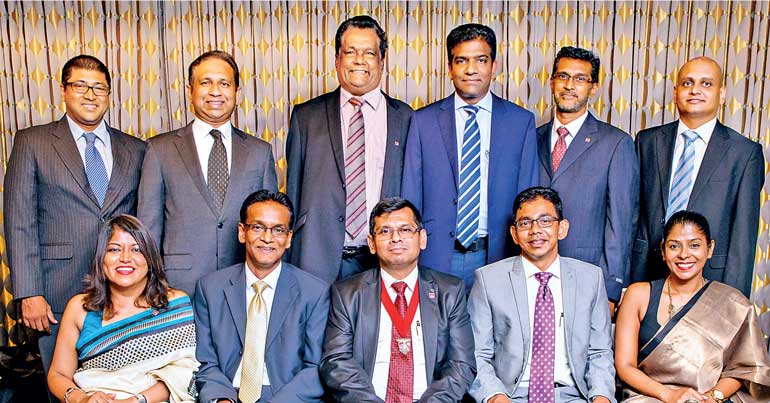 The newly elected Executive Committee of ACCA Sri Lanka for the year 2016/2017 with ACCA Sri Lanka Head Nilusha Ranasinghe and Business Development Manager Ruchera Jayawardena Peries
At ACCA's 39th Annual General Meeting held recently at the Cinnamon Grand Colombo, Adrian Perera the Chief Operating Officer at equiCapital Investments Ltd. was elected as the new chairman member network panel for ACCA Sri Lanka for the year 2016/2017.

Adrian Perera is a Fellow Member of the Association of Chartered Certified Accountants (ACCA), the Certified Management Accountants of Sri Lanka (CMA), and the Certified Professional Managers of Sri Lanka. He is an Associate member of the Institute of Bankers of Sri Lanka and holds a Master's degree in Business Administration from the Post Graduate Institute of Management University of Sri Jayewardenepura.

Adrian has over 25 years of working experience in Treasury, Investment, Finance, General Management and Credit Rating. Having started his career at Hatton National Bank PLC, he moved to Ranfer Teas as the group Financial Controller and later joined Lanka ORIX Leasing Company PLC as the Assistant General Manager Group Treasury. He subsequently joined Rhino Roofing Products Ltd. as the Chief Financial Officer and in 2009 joined RAM Rating Lanka Ltd now known as Lanka Rating Agency Ltd., as its Chief Executive Officer. He currently works at equiCapital Investments Ltd., a boutique investment house as the Chief Operating Officer.

Adrian has attended training programs in Sri Lanka and abroad which deal extensively with the Capital market and general management. He has been a paper presenter at the South Asia Federation Accountants (SAFA) conferences in India, Bangladesh and Pakistan and is a member of the SAFA Integrated Reporting Awards Committee.

Furthermore, Adrian is also the Chairman of the ACCA Sustainability Awards Committee, Chairman of CMA Sri Lanka's IT and Journal Committee and a member of the Board of Management of the Integrated Reporting Council of Sri Lanka.

Suren Rajakarier, Partner KPMG Sri Lanka was elected as the Vice Chairman. The rest of the executive committee comprised of Nandika Buddipala , CFO Commercial Bank of Ceylon PLC, Channa De Silva, Managing Director, Summit Finance, Kumuduni Gunatilleka, Head of Finance Group Reporting and Performance Management PT Agro, B.H.S. Jayawardena, Financial Consultant, Cyril Mundy, Retired Banker Jehan Perinpanayagam , CEO Infomate Ltd., Sanje Gunasekera Director Finance/CFO at GlaxoSmithKline Consumer Healthcare and Tharick Razick, Director Finance, Debug Computer Peripherals.

Haroon A. Jan, Head of Member Affairs ACCA Pakistan was also in attendance at the occasion.

Adrian in his acceptance speech stated that ACCA has been growing continuously over the years and has been able to contribute to the society in its own way with its growth. He added that it was important to continue to develop the technical competency of members and to broad base their sphere of influence and urged the members to be a part of ACCA's forward thinking Continuous Professional Development programs (CPDs).

Looking ahead to 2017, he said that ACCA Sri Lanka will focus on capitalising on the advances made over the past year, and ensuring the ACCA Qualification remains robust, relevant and in demand from businesses in every industry.

Ruchera Jayawardena Peries, Business Development Manager, ACCA Sri Lanka outlined their achievements during the year that included their affiliates being employed within one year of completing exams, developing an advocacy network of members and having over 200 students and affiliates being awarded prizes for high achievements at exams that also comprised of world prize winners. Computer Based Exams were introduced to Sri Lanka along with the GBS qualification and ACCA-X the high quality online learning program.

She also outlined a range of activities carried out to further strengthen relationships with learning partners along with soft skills trainings to support students and members. Many high profile networking events and successful workshops were conducted in collaboration with leading conglomerates on current topics of interest.

Embracing their motto 'Think Ahead, 'ACCA Sri Lanka looks forward to another successful year of empowering students and members with updated professional knowledge and inspiring new thinking, to produce complete finance professionals that will further uplift the profession in the country.