By Wealth Trust Securities

The secondary bond market witnessed a day of mixed fortunes yesterday as yields on the long end of the curve were seen increasing while the short end saw yields dip or hold steady. Buying interest on the 15.11.2018 and 01.05.2020 maturities saw its yields dip to intraday lows of 11.10% and 11.36% respectively against its days opening highs of 11.15% and 11.44%. However selling interest on the 15.03.2025, 01.06.2026, 01.09.2028 and 15.05.2030 saw its yields increase to daily highs of 11.78%, 11.82%, 12.11% and 12.15% respectively against its days opening lows of 11.70%, 11.80%, 12.08% and 12.12% on the back of considerable volumes changing hands.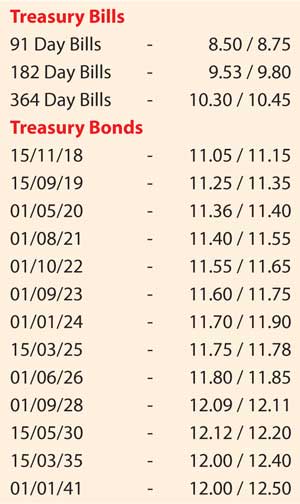 Meanwhile in money markets, the surplus liquidity stood at a net deficit of Rs.12.70 billion yesterday as the Open Market Operations (OMO) department of Central bank injected an amount of Rs.10 billion for a third consecutive day at a weighted average rate of 7.97%. The overnight call money and repo rates averaged at 8.15% and 8.01% respectively.

Rupee depreciates marginally

Meanwhile in Forex markets, the rupee on spot next contracts lost ground marginally yesterday to close the day at levels of Rs.146.15/25 on the back of importer demand. The total USD/LKR traded volume for the 04thof May 2016 was US $ 52.75 million.

Some of the forward USD/LKR rates that prevailed in the market were 1 Month - 147.05/15; 3 Months - 148.70/90 and 6 Months - 151.20/40.