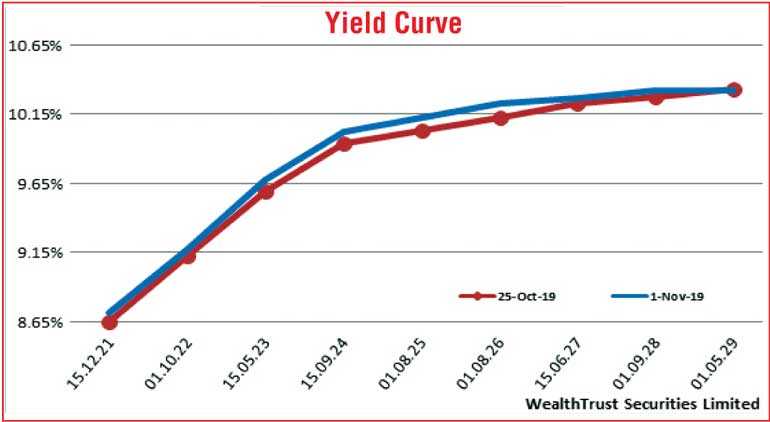 Foreign demand for local bonds continue
FED cuts policy rates further
Total money market liquidity turns positive
By Wealth Trust Securities

The secondary bond market ended the week on a bearish note as yields was seen fluctuating during the week ending 1 November.

Yields were seen dipping or holding at its weeks lows during the first half of the week driven by the impressive Treasury bond auction outcomes while it edged up towards the latter part of the week, mainly on the short end of the curve on the back of selling interest following the weekly Treasury bill auction outcome.
The market favourite maturities of 15.12.21, 01.10.22, three 2024's (i.e. 15.03.24, 15.06.24 and 15.09.24) and 15.09.34 saw its yields decrease to intraweek lows of 8.65%, 9.10%, 9.92%, 9.95%, 9.88% and 10.61% respectively against its previous week closing rates of 8.62/68, 9.10/15, 9.92/95, 9.90/95, 9.93/95 and 10.63/68.

Yields were seen bouncing back from these lows to weekly highs of 8.75%, 9.20%, 10.00%, 10.05%, 10.07% and 10.65% respectively on the said maturities with the short end of the curve recording a upward movement, week on week.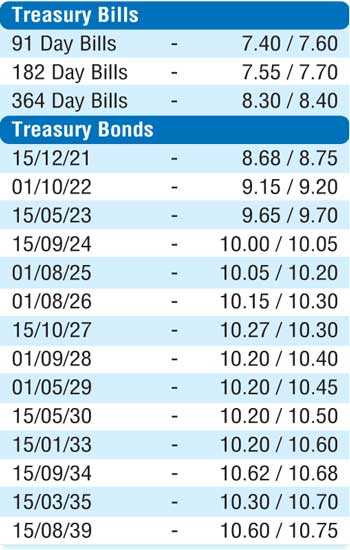 However, foreign buying interest in Rupee bonds continued for a second consecutive week with an inflow of Rs. 1.55 billion for the week ending 30th October 2019. Meanwhile, the Federal Reserve Bank (FED) of US was seen cutting its policy rates by 0.25% during the week, its third reduction for the year.

The daily secondary market Treasury bond/bills transacted volume for the first four days of the week averaged Rs. 13.34 billion.

In money markets, overall liquidity in the system was seen turning positive for the first time in 12 weeks to record a surplus of Rs. 0.79 billion against its previous week's deficit of Rs. 1.80 billion. Overnight call money and repo averaged 7.44% and 7.48% respectively for the week as the average overnight net liquidity surplus in the system stood at Rs. 18.87 billion for the week.

Rupee closes higher

In the Forex market, the USD/LKR rate on the spot contracts were seen closing the week higher at Rs. 181.05/20 in comparison to the previous weeks closing levels of Rs. 181.30/45, subsequent to trading within the range of Rs. 181.05 to Rs. 181.62 during the week.

The daily USD/LKR average traded volume for the first four days of the week stood at $ 71.19 million.

Some of the forward dollar rates that prevailed in the market were one month – 181.65/75; three months – 182.80/95 and six months – 184.70/90.