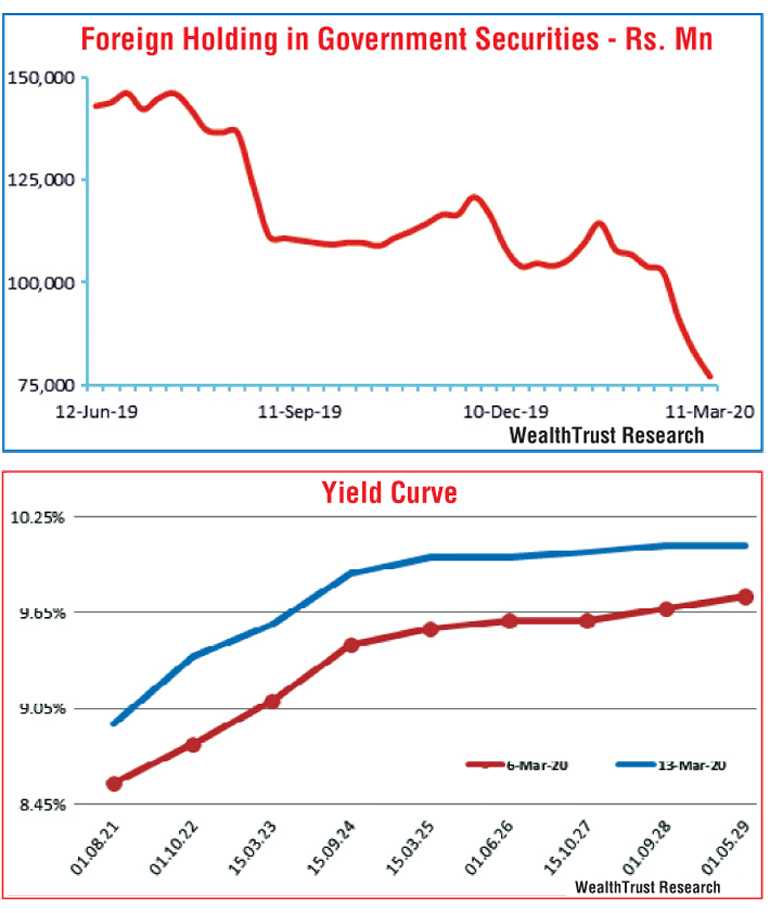 Foreign exhaustion continues for seventh consecutive week
Money Market liquidity jumps to over 2-year high

Rupee slides
By Wealth Trust Securities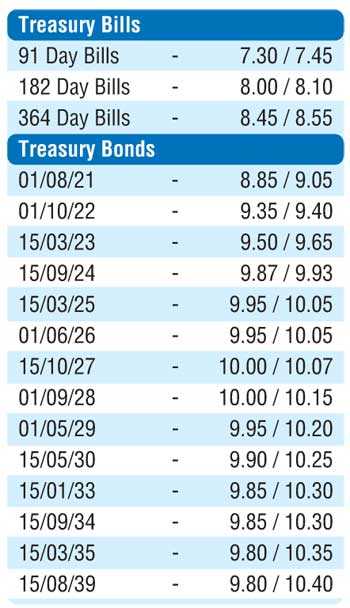 The upward momentum in secondary market bond yields witnessed during the previous week, continued over the shortened trading week ending 13 March as well. Foreign flight in rupee bonds along with the gloomy economic conditions around the world was seen as the reasons behind the increase in yields.

The foreign component in rupee bonds decreased for a seventh consecutive week to register an outflow of Rs. 5.9 billion for the week ending 11 March, reducing its total holding to Rs. 77.10 billion.

In the secondary bond market, yields on the maturities of two 2021's (i.e. 01.08.21 and 15.12.21), 01.10.22, three 2023's (i.e. 15.07.23, 01.09.23 and 15.12.23), two 2024's (i.e. 01.08.24 and 15.09.24), 01.06.26, 15.10.27 and 01.05.29 were seen increasing to intraweek highs of 9.00%, 9.05%, 9.40%, 9.60% each, 9.70%, 10.00%, 9.95%, 10.10%, 10.08% and 10.22% respectively against its previous weeks closing levels of 8.50/65 each, 9.15/25, 9.22/30, 9.25/30, 9.25/35, 9.50/60, 9.48/58, 9.55/70, 9.55/65 and 9.65/85. This reflected a parallel shift upwards of the overall yield curve.

Furthermore, during the week at the Treasury bill auction, the market favourite 364-day bill increased by two basis points for the first time in three weeks while the Treasury bond auctions for Rs. 60 billion was fully taken up at its Phase one stage as weighted averages reflected marginal increases or same levels against its pre-auction rates.

The daily secondary market Treasury bond/bill transacted volumes for the first three days of the week averaged at Rs. 19.56 billion.

In money markets, the overall liquidity in the system was seen increasing to over two-year high of Rs. 74.51 billion, a level last seen in January 2018. The weighted average yields on overnight call money and repo were recorded at 7.00% and 7.03% respectively for the week. The Domestic Operations Department (DOD) of the Central Bank of Sri Lanka refrained from conducting any auctions during the week.

Rupee depreciates

In the Forex market, the USD/LKR rate on spot contracts was seen depreciating considerably during the week to hit low of Rs. 183.90 before closing at levels of Rs. 184.90/40 against its previous weeks closing level of Rs. 181.85/00 on the back of a strengthening dollar and a gloomy global economic environment.

The one week forward contracts were quoted at Rs. 185.00/60.

The daily USD/LKR average traded volume during the first three days of the week stood at $ 134.84 million.

Some of the forward dollar rates that prevailed in the market were 1 Month – 185.50/00; 3 Months – 186.30/60 and 6 Months – 187.70/20.

(References: Central Bank of Sri Lanka, Bloomberg E-Bond trading platform, Money broking companies).