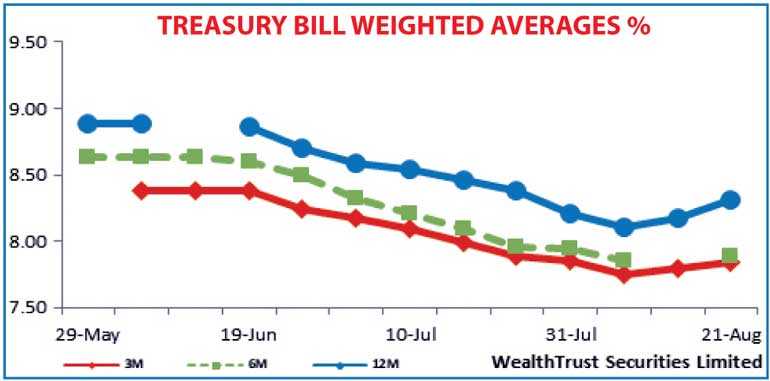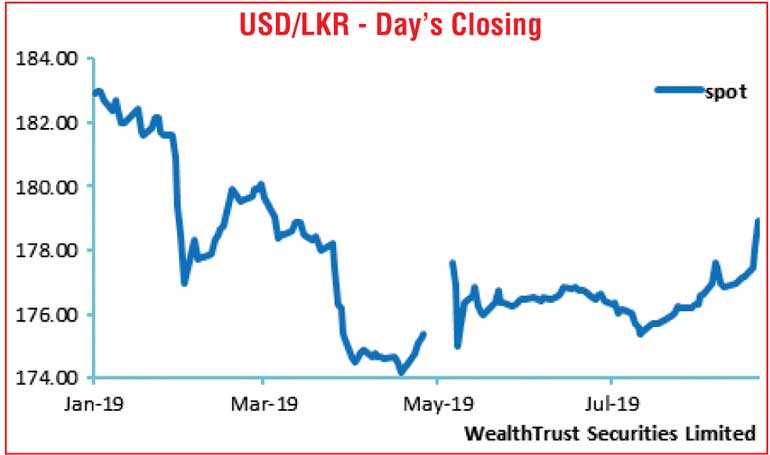 Secondary market bond yields fluctuate
Rupee continues to fall; dips to Rs. 179
The weekly Treasury bill weighted averages were seen increasing across the board yesterday, with the 364 day bill recording a sharp increase of 14 basis points to 8.31% against its previous week. This was closely followed by the 91 day bill, as it was seen increasing by 04 basis points to 7.84%. The 182 day bill, which was accepted after a lapse of one week, saw its weighted average increase by 04 basis points as well to 7.89%, against its weighted average of 7.85% recorded on 7 August. The total offered amount of Rs. 18 billion was successfully met at the auction, as the total bids to offer ratio increased to 1.90:1 against its previous week.



The secondary bond market remained active yesterday as yields decreased in morning hours of trading driven by continued buying interest. Demand on the short end of the curve saw yields of 2021's (i.e. 01.05.21, 01.08.21 & 15.12.21), 01.07.22 and 2023's (i.e.15.03.23, 15.07.23 & 15.12.23) dip to intraday lows of 8.85%, 8.90%, 8.95%, 9.25%, 9.55%, 9.60% and 9.70% respectively against its previous day's closing levels of 8.90/00, 8.95/03, 9.02/12, 9.30/45, 9.60/70, 9.68/72 and 9.75/82. In addition, the two 2024's of 15.03.24 and 15.06.24 were seen changing hands at levels of 9.87% and 9.90% respectively as well. However, yields were seen moving up once again, above its opening quotes, following the Bill auction outcome as two way quotes widened towards the latter part of the day.

The total secondary market Treasury bond/bill transacted volumes for 20 August was Rs. 10.63 billion.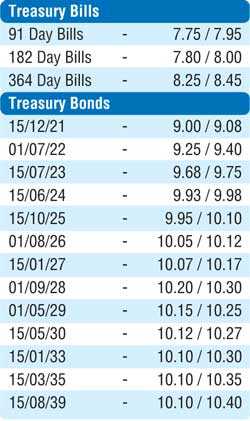 In money markets, the net liquidity surplus stood at Rs. 22.49 billion as the OMO (Open Market Operations) Department of the Central Bank of Sri Lanka was seen injecting liquidity by way of a term reverse repo auction and an overnight reverse repo auction yesterday. The seven day term Repo auction injected an amount of Rs. 8.00 billion at a weighted average of 7.55% while a further Rs. 6.3 billion was injected through the overnight auction at a weighted average of 7.69%. In addition, a total amount of Rs. 3.07 billion was injected by way of outright auctions to purchase Treasury bills for durations ranging of 302 to 325 days at weighted average ranging from 7.86% to 8.00%. The overnight call money and repo rates averaged 7.79% and 7.93% respectively.
Rupee breaks Rs. 179

The Interbank USD/LKR rate on spot contracts was seen hitting an intraday low of Rs. 179.00 yesterday for the first time since March 2019, before closing the day at Rs.178.85/00 against its previous day's closing levels of Rs.177.95/10, on the back of continued buying interest by Banks.

The total USD/LKR traded volume for 20 August was $ 52.95 million.

Some forward USD/LKR rates that prevailed in the market are: 1 month - 179.20/40; 3 months - 180.20/50; 6 months - 181.90/30.