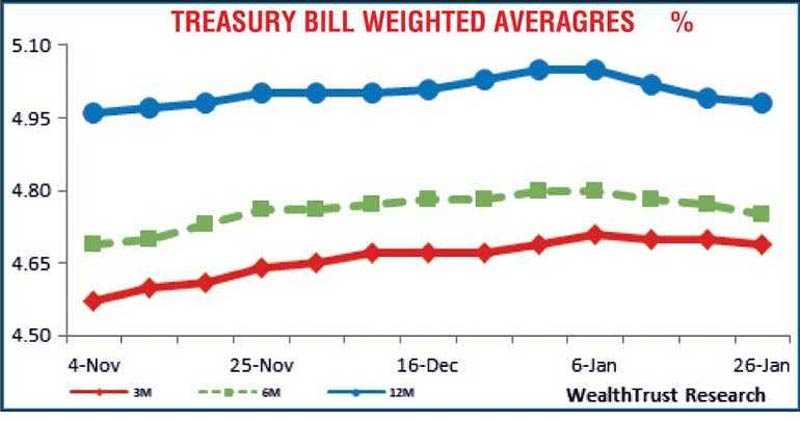 ---
Bond market activity remained moderate ahead of T-Bond auctions
Rupee appreciates
---
By Wealth Trust Securities
---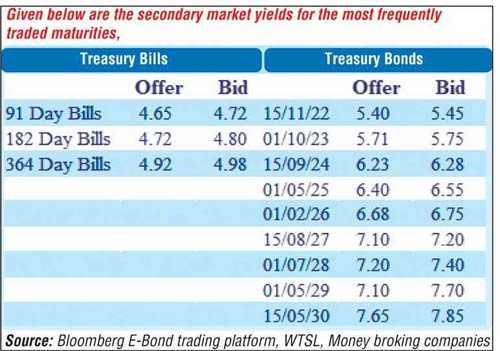 The weekly Treasury bill auction was undersubscribed once again yesterday following three consecutive weeks of full subscription.

A total amount of Rs. 25 billion was accepted on all three maturities against its total offered amount of Rs. 40 billion. However, weighted averages were recorded marginally lower that it's cut off rates. The 91 day and 364 day bills recorded weighted averages 4.69% and 4.98%, 01 basis point below its cut off while the 182 day bill was recorded at 4.75%, 02 basis points below its cut off. The bids to offer ratio dipped to 1.33:1.

A very moderate volume of activity was witnessed in the secondary bond market yesterday due to the wait and see approach by most market participants ahead of today's Treasury bond auctions. In limited trades, 01.10.22, two 2024's (i.e. 15.09.24 and 01.12.24) and two 2026's (i.e. 15.01.26 and 01.02.26) maturities changed hands at levels of 5.40% to 5.43%, 6.25%, 6.32%, 6.65% and 6.70% respectively.

Today's auction will have on offer a total amount of Rs. 75 billion, consisting of Rs. 50 billion of 01.12.2024 and Rs. 25 billion of 15.08.2027. Stipulated cut off rates for the said maturities was published at 6.35% and 7.20% respectively. The weighted average yields at the bond auction conducted on 11th January 2021 were 6.38%, 6.72% and 7.39% respectively for the maturities of 01.12.2024, 15.01.2026 and 01.05.2028.

The total secondary market Treasury bond/bill transacted volumes for 25 January was Rs. 7.35 billion.

In the money market, weighted average rates on overnight call money and repo was registered at 4.54% and 4.55% respectively yesterday while the overnight surplus liquidity increased Rs. 124.92 billion.
USD/LKR
In the Forex market, activity was seen returning back to spot contracts yesterday as it was seen appreciating to close the day at Rs. 195.50/196.50 against its previous days one month forward closing of Rs. 197.50/199.50.

The total USD/LKR traded volume for 25 January was $ 54.40 million.

(References: Central Bank of Sri Lanka, Bloomberg E-Bond trading platform, Money

broking companies)