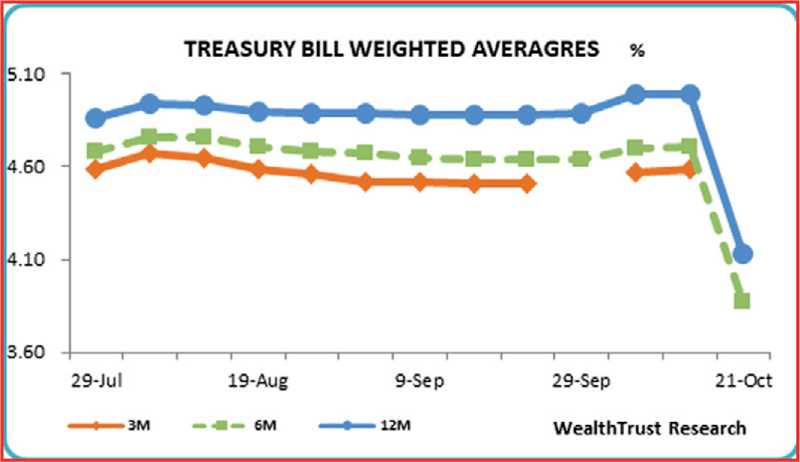 Bond yields decrease ahead of monetary policy announcement
---
By Wealth Trust Securities
---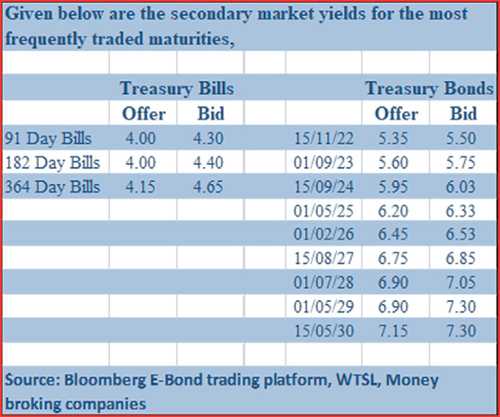 The weekly Treasury bill auction conducted yesterday recorded an incredible outcome as the weighted average rates of the 182-day and 364-day bills were seen crashing by 84 basis points and 86 basis points respectively, to 3.87% and 4.13%, well below the Central Bank of Sri Lanka's Standing Deposit Facility Rate of 4.5% - a phenomenon last seen in July. Furthermore, all bids received for the 91-day bill were rejected due to the total requirement of Rs. 40 billion been derived from the 182 and 364-day maturities. The bids to offer ratio increased to 2.07:1. 

In the secondary bond market, activity was seen throughout most part of the day along the yield curve within a thin range once again before two-way quotes dipped and widened at the latter part of the day, following the outcome of the weekly bill auction. The yields on the liquid maturities of 2024's (i.e. 15.06.24 & 15.09.24) and 01.02.26 decreased to intraday lows of 6%, 6.02% and 6.5% respectively against its previous day's closing levels of 6.02/05 each and 6.52/54. Furthermore, maturities of 2022's (i.e. 15.11.22 & 15.12.22), 01.08.26, 2027's (i.e. 15.08.27 & 15.10.27) and 01.07.28 were seen trading at levels of 5.53% to 5.55%, 6.5%, 6.85% to 6.87% and 7.07% to 7.085% respectively as well. In secondary bills, October 2021 maturities changed hands at levels of 4.93% to 4.95% pre auction while a September 2021 maturity changed hands at a level of 4.55%, following the auction outcome.

This was ahead of today's Monitory policy announcement due at 7:30 a.m. The Central Bank of Sri Lanka kept policy rates unchanged its previous announcement on the 20 August.

The total secondary market Treasury bond/bill transacted volumes for 20 October was Rs. 10.18 billion.   

In the money market, the weighted averages on overnight call money and Repos were registered at 4.53% and 4.56% respectively, as the overnight surplus liquidity in the system stood at Rs. 210.69 billion yesterday.


Rupee appreciates marginally

In the Forex market, USD/LKR rate on spot contracts was seen appreciating marginally yesterday to close the day at Rs. 184.20/30 against its previous day's closing level of Rs.184.45/60 on the back of selling interest by banks.

The total USD/LKR traded volume for 20 October was $ 139.95 million.    (References: Central Bank of Sri Lanka, Bloomberg E-Bond trading platform, Money broking companies)