By Wealth Trust Securities

The secondary bond market commenced the day with yields decreasing in opening hours of trading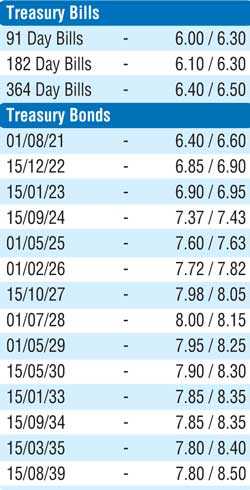 yesterday, while selling interest subsequently, due to profit taking saw yields increase once again. The increase saw yields on the liquid maturities of 15.12.22, 15.01.23, 2024s (i.e. 15.03.24 & 15.09.24), 01.05.25, 01.02.26 and 15.10.27 hit intraday highs of 6.91%, 7.02%, 7.48%, 7.55%, 7.75%, 7.87% and 8.14% respectively. Renewed buying interest once again from these levels saw yields tumble to daily lows of 6.875%, 6.90%, 7.40% each, 7.60%, 7.80% and 8.00% respectively on the said maturities while closing the day lower than its previous day's closings.

The total secondary market Treasury bond/bill transacted volume for 17 June was Rs. 38.77 billion.

In money markets, the weighted average rates on the overnight call money and repo rates were recorded at 5.70% and 5.75% respectively as the overnight net liquidity surplus in the system stood at Rs. 212.42 billion yesterday.
Rupee continues to lose
In Forex markets, the downward trend on the Rupee continued yesterday as the USD/LKR on spot contracts were seen closing the day at Rs. 186.60/75 against its previous day's closing levels of Rs. 186.45/65.

The total USD/LKR traded volume for 17 June was $ 59.29 million.

(References: Central Bank of Sri Lanka, Bloomberg E-Bond trading platform, Money broking companies)