Money market liquidity increases
Rupee appreciates
By Wealth Trust Securities

The activity in the secondary bond market moderated considerably towards the latter part of the week ending 31 July, with yields continuing to increase, reflecting an upward shift of the overall yield curve for a second consecutive week. The upward trend was fueled by the outcome of the primary bond and bill auctions during the week, at where total accepted amounts fell short of its total offered amounts.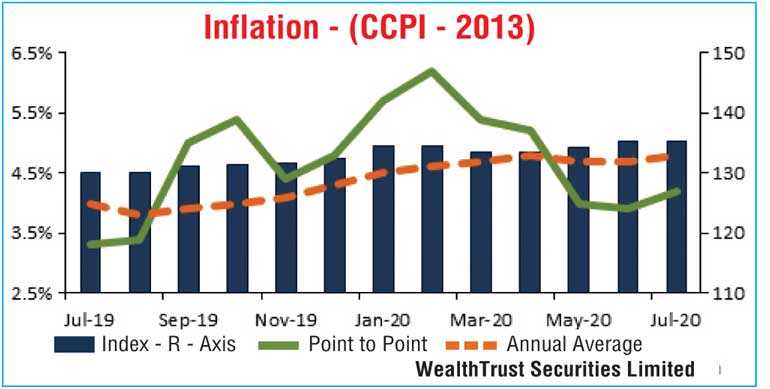 Yields increased across the curve with the liquid maturities of 15.12.22, 2023s (i.e. 15.01.23 and 01.09.23), 2024s (i.e. 01.01.24, 15.06.24 & 15.09.24), 01.05.25, 01.02.26, 15.10.27 and 15.05.30 increasing to weekly highs of 5.75% each, 6.00%, 6.15%, 6.25%, 6.30%, 6.50%, 6.60%, 7.00% and 7.38% respectively against its previous weeks closing levels of 5.56/60, 5.58/65, 5.77/87, 6.05/15, 6.15/20, 6.17/24, 6.43/45, 6.55/58, 6.68/78 and 7.05/10. This in turn led to an upward shift of the yield curve, on a week on week basis.

The foreign component in Rupee bonds remained unchanged at Rs. 12.82 billion for the week ending 29 July.

The Colombo Consumer Price Index (CCPI) or inflation for the month of July increased for the first time in five months to 4.2% on its point to point, when compared against its previous month's figures of 3.9% while its annual average increased as well to 4.8% from 4.7%.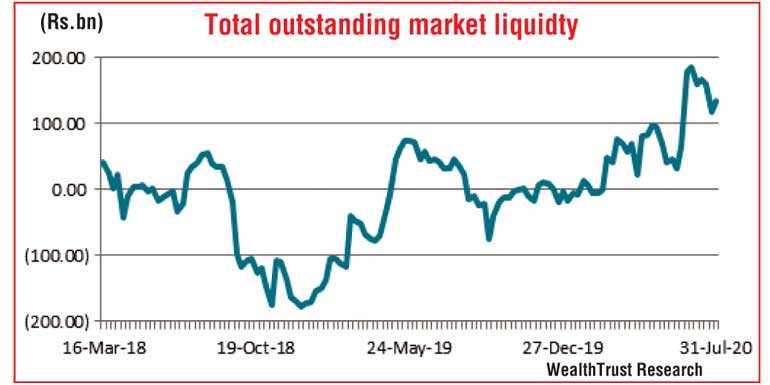 The daily secondary market Treasury bond/bill transacted volumes for the first four days of the week averaged Rs. 20.19 billion.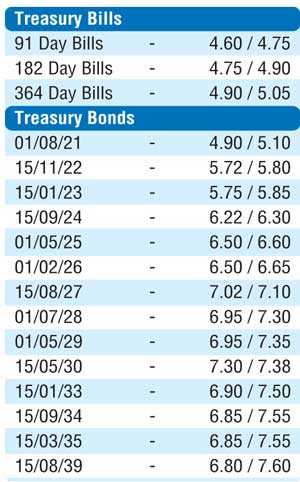 In money markets, the weighted average yields on overnight Call money and Repos remained unchanged to average at 4.53% and 4.56% respectively for the week as the overall market liquidity increased to close the week at Rs.133.79 billion against its previous weeks close of Rs.117.94 billion.


Rupee appreciates

In the Forex market, USD/LKR rate on spot contracts were seen appreciating during the week to close the week at Rs. 185.60/65 against its previous week of Rs. 185.75/85, subsequent to trading within the range of Rs. 185.60 to Rs. 185.80. A globally weakening dollar along with forward conversions was seen as the reasons for the appreciation.

The daily USD/LKR average traded volume for the first four days of the week stood at $ 99.80 million.

(References: Central Bank of Sri Lanka, Bloomberg E-Bond trading platform, money broking companies)