Union Bank announced the launch of 'Union Bank Gold Circle' – a specially designed financial proposition aimed at empowering the dreams of dynamic and ambitious individuals.

The unique banking proposition is bundled with benefits on saving and borrowing options, allowing more flexible and convenient terms of banking to suit the evolving needs of young professionals/business owners and go-getters.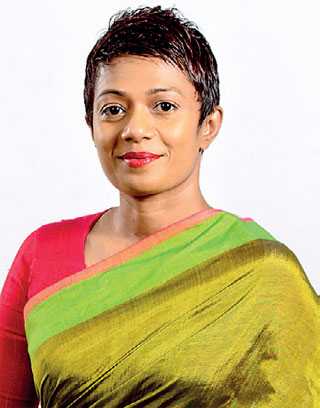 Union Bank Vice President Retail Banking Chaya Jayawardane
Union Bank Gold Circle enables an account holder to obtain a spot advance equivalent to one month's salary up to maximum of Rs. 250,000. Additionally, the accountholders can also enjoy an array of banking privileges including a pre-approved credit card, rebates on housing loans and loans against property interest rates along with a discount on the Platinum Debit Card issuance fee. The account holders will also enjoy added value of accessing safety deposit locker services at a discounted fee while commissions on foreign currency issuance will also be reduced for this distinct segment of clients.

In recognition of their need for personalised attention and prudent financial advice, Union Bank Gold Circle will entitle accountholders to personalised services of a dedicated relationship manager. Allowing convenient and flexible accessibility, Union Bank Gold Circle account will offer free Internet and Mobile Banking services along with SMS alerts providing banking transaction updates at their fingertips.

Catering to the dynamic financial needs of business owners, the pragmatic banking proposition affords specific privileges for this segment including free cash collection services.

Commenting on the launch of Union Bank Gold Circle, Vice President – Retail Banking of Union Bank Chaya Jayawardane said, "This unique proposition is specially designed to fuel the dreams of ambitious professionals and business owners, aspiring to reach their next pinnacle of success. Union Bank pursues a segmented approach in a bid to offer meaningful personal banking services to our clients; and hence, Union Bank Gold Circle is an affirmation of our commitment to continuously enhance our retail banking propositions to suit the evolving banking needs in the market. With Union Bank Gold Circle bundled with many banking privileges, we hope to partner the growth journey of the middle and upper tiers of professionals and entrepreneurs; thus propelling them towards achieving their goals and providing a stepping stone towards establishing an enriching banking partnership with Union Bank."

More details of Union Bank Gold Circle and the Bank's wide ranging retail banking propositions may be accessed via the Bank's new and improved corporate website via www.unionb.com.