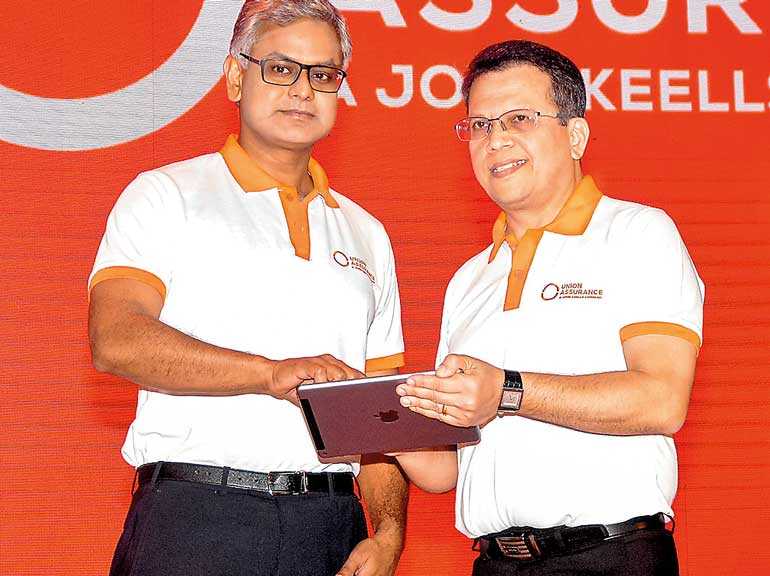 John Keells Holdings Chairman Krishan Balendra (left) and Union Assurance CEO Jude Gomes launching the website
---
New logo and theme revealed for unique positioning in Life Insurance industry
Union Assurance PLC, Sri Lanka's first private Life Insurance company in operation for over 30 years, unveiled a bold new identity on Friday. Portraying a new logo and pay-off line, Union Assurance's strategic transformation marks a new beginning as it adopts a fresh outlook and a compelling value proposition in the Life Insurance industry.

A member of the John Keells Group, Union Assurance, has earned a reputation for extending the best protection in the market through innovative Life Insurance solutions to empower policyholders. Consolidating this formidable growth and expansion further, the newly-launched logo depicting the 'circle of life' and its theme - "Your Life, Our Strength" heralds a new positioning for Union Assurance.

The reimagined identity marks an exciting journey where staff will adopt a new way of looking at things and assess and nurture the relationships they have with their customers. Anchored by a team of experienced and dynamic professionals, a strong capital base and reinsurance partnerships with highly rated global reinsurers, Union Assurance offers a competitive range of tailor-made Life Insurance products and services.

Commenting on the exciting repositioning, JKH Chairman Krishan Balendra said: "We are proud of the new identity that Union Assurance exudes today as a trusted insurer that is renewing its commitment to fulfil countless aspirations in the most ethical manner. In keeping with Union Assurance's dedication to design and develop solutions that suit emerging realities, its new value proposition to policyholders is the promise that it is an insurer that understands their aspirations."

Union Assurance CEO Jude Gomes said, "Union Assurance's newly-launched identity reflects our commitment to change and evolve to suit emerging requirements of consumers whilst ensuring we sustain our reputation of being a trusted insurer, with the backing of the largest conglomerate in Sri Lanka, John Keells Holdings. Our new identity in the year 2020 will pave the path for us to fulfil the Sri Lankan dream of a better life.

Union Assurance's new purpose is built on 3 main pillars: protecting relationships, protecting growing ambitions and protecting progressing lifestyles. Our new mission is to show people that they can dream bigger if they plan better, that their children can go higher if their foundation is stronger, and that their lives can be richer if they thought smarter. The new logo's shade of orange is the colour of the morning sun, the inspiration of life and marks the beginning of our exciting new journey together with our customers."

In 1987, Union Assurance was formed by Aitken Spence, Cason Cumberbatch, Mercantile Credit and Whittall Boustead who previously functioned as principle agents to the National Insurance Corporation.

In 2009, John Keells Holdings PLC obtained control of UA by gaining 81% stake. Today completing over three decades of success with the market capitalization of Rs. 18 billion and Life Fund of Rs. 35 billion, it is poised to tread a re-energized path to achieve strategic market penetration and closer relationships with policyholders. Set to empower the Sri Lankan dream, Union Assurance offers Life Insurance solutions to cover education, health, investment, protection and retirement needs of Sri Lankans. Union Assurance being one of the most awarded insurers in the country continues to invest in people, products and processes to remain agile and responsive to emerging changes in the Life insurance industry.
Pix by Upul Abayasekara