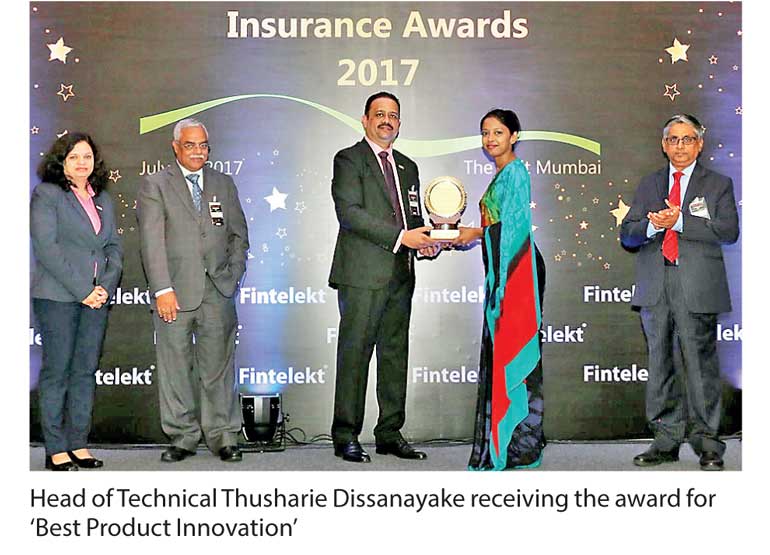 Union Assurance continuously dedicates its efforts to deliver the best for its customers by introducing tailor-made and fully customised solutions. By referring to the product portfolio introduced by UA, it is clear how the company has catered and supported the Sri Lankan community in every stage of their life cycle. UA product outline comprise of innovative and fully customised life insurance solutions that has expanded across fulfilling Investment, Education, Health, Protection and Retirement needs of the people.

Appreciating its innovative product designing approaches, UA was able to receive the recognition for its efforts on the introduction of the unique Health Insurance Solution - Union Smart Health. This acknowledgement was received at the Fintelekt Insurance Awards held on 21 July at The Lalit Sahar, Mumbai. This award stands out since the award ceremony is renowned for honouring the achievements of insurance companies in Sri Lanka and India.

The recognition was solely based on several unique features including an automatic increase in limits in case no claim has been made within a policy year and a revive benefit allowing customers' to claim the annual limit on the policy twice in one year if the cause of the hospitalisation is not related to previous hospitalisations. In addition, Union Smart Health product includes set of smart features such as hassle free bill payment, per day hospital cash benefit for hospitalisations in non-paying wards, daycare surgery cover, selection between family cover or individual cover and overseas cover.

Commenting on the recognition General Manager – Life Iroshini Tittagalla said: "We are extremely glad to receive the recognition for the efforts we have centred across to introduce such a valued, innovative and unique health insurance product to our customers. Our team will be working hard to keep all the life insurance products evolving, to cater the ever-changing requirements of the communities we operate in. This recognition would be yet another accomplishment and a great motivation for our team to keep adding the innovative flavours and blending it with our business strategies."

Union Assurance operates on the platform of trust, based on the brand values of convenience, respect, and transparency. UA has integrated its innovative strategy into all facets of the business to provide unparalleled levels of customer convenience. The company expects to synchronise its innovative strategy to fulfil the promise of 'Trusted Protection' to all its customers and other stakeholders.