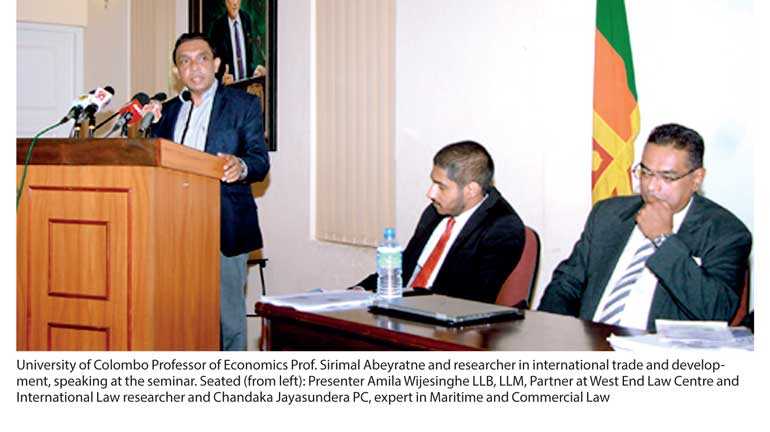 'Towards the Main Financial Hub of Asia: The Port City Colombo 2018' seminar was held on 14 July at the 'Lighthouse Auditorium' Colombo, organised by the West End Law Centre headed by Former Ambassador to the UAE and Israel, Solicitor in England and Wales and Attorney-at-Law Sarath Wijesinghe.

The seminar was conducted on the concept of the Port City as a Financial Hub in Asia, and as a bridge for the rest of the world to conduct business in a neutral, conducive and progressive environment. The importance of making sure that Sri Lanka engages with global trade in a way that benefits the local communities and the importance of ensuring competent people are in charge of the legal drafting process was highlighted by the speakers.

It was a resounding success with much positive feedback from the participants as well as others. The erudite speakers imparted a wealth of insight from their respective domains on the practical aspects, challenges and opportunities of setting up an International Financial Hub in Sri Lanka. Leading experts, academics and professionals in the fields of Economics, Law, National Defence, Maritime trade and many other domains attended the seminar.

The distinguished speakers at the seminar included: Prof. Sirimal Abeyratne – Professor of Economics, University of Colombo and researcher in international trade and development, DL Mendis – UN expert, former Diplomat, Legislative Drafter and Attorney-at-Law, Chandaka Jayasundera PC – leading expert in Maritime and Commercial law, Admiral (Dr.) Jayanath Colombage – former Navy Commander, former Chairman of Sri Lanka Shipping Corporation and an adviser to the President of Sri Lanka on maritime affairs, Asanga Abeyagoonasekera – Visiting Professor for Geopolitics and Director General of the Institute of National Security Studies Sri Lanka (INSSSL), Admiral Thisara Samarasinghe – former Commander of the Navy, former High Commissioner to Australia New Zealand and Pacific Islands and Senior Consultant of CINEC Campus, Dakshitha Bogollagama – Chairman, National Enterprise Development Authority and Banking and Investment professional. While the above seminar focused on practical aspects of an International Financial Hub, the implementation aspect will be discussed subsequently at a follow up seminar to be held shortly. Inquiries: Sarath +94 77 788 0166, Christina +94 77 982 4007, Rukshala +94 77 201 6641, Joshua +94 77 590 4821, Nilu (Media) +94 77 770 6056.