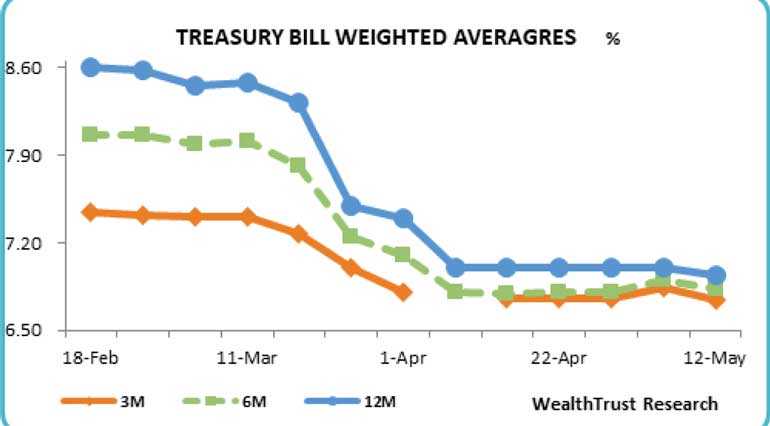 ---
By Wealth Trust Securities

The total offered amount of Rs. 30 billion was fully accepted for the first time in eight weeks at the weekly Treasury bill auction held yesterday with the weighted average rate on the market favourite 364-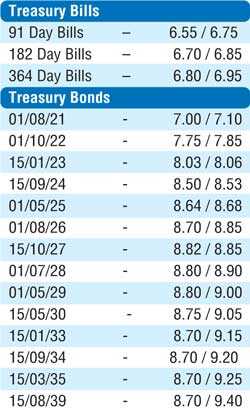 day maturity decreasing by 06 basis points to 6.94%, below Central Banks stipulated cut-off rate of 6.95%.

The weighted average rates on the 91-day and 182-day maturities decreased to the stipulated cut-off rates of 6.74% and 6.83% respectively against its previous weeks of 6.84% and 6.90%. The bids to offer ratio increased to 1.78:1.

Activity in the secondary bond market continued within a narrow range as the liquid maturities of 15.01.23, 2024's (i.e. 15.03.24, 15.06.24 and 15.09.24), 01.05.25 and 15.10.27 changed hands at levels of 8.04% to 8.05%, 8.50% to 8.52%, 8.50% each, 8.65% to 8.66% and 8.84% respectively.

In the secondary bill market, June, January and March maturities were seen changing hands at levels of 6.58% to 6.75%, 6.85% and 6.90% respectively, pre-auction outcome.

The total secondary market Treasury bond/bill transacted volume for 12 May was Rs. 18.89 billion.

In money markets, the weighted average rates on overnight call money and repo stood at 5.92% and 6.06% respectively as the overnight net liquidity surplus in the system stood at Rs. 136.87 billion. The Domestic Operations Department (DOD) of the Central Bank of Sri Lanka refrained from conducting any auction for a second consecutive day.
USD/LKR
In the Forex market, the USD/LKR rate on spot contracts traded within the range of Rs. 187.99 to Rs. 188.50 yesterday before closing the day at levels of Rs. 188.00/30.

The total USD/LKR traded volume for 12 April was $ 65.25 million.