Singer Finance announced the appointment of Thushan Amarasuriya as Chief Executive Officer of Singer Finance (Lanka) PLC with effect from 1 July. He succeeds Shantha Wijeweera, who retired on 30 June.

Thushan joined the Singer Group in 2008 as Controller of Appliance Retail Operation, Singer lndia and one year later moved to Singer (Sri Lanka) as Manager – Financial Reporting. He was transferred to Singer Finance and promoted to the position of Finance Manager in 2012 and was appointed Chief Operating Officer (COO) in 2017.

Thushan holds an MBA from the University of Leicester, UK and is an Associate of the Chartered institute of Management Accountants, UK as well as the Chartered institute of Marketing, UK. He is an Affiliate of the Association of Chartered Certified Accountants, UK.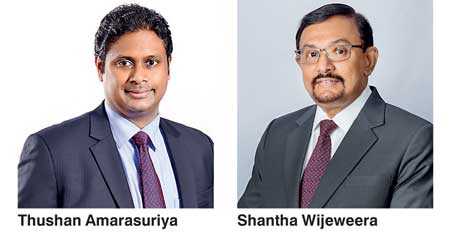 Thushan was selected as the Best Executive of the Year of the Singer Group in 2014. At his Alma Mater, Royal College, he was the Captain of the Cricket Team and Head Prefect and was voted Most Popular Schoolboy Cricketer of the Year in 1999.

Thushan's predecessor, Shantha Wijeweera, joined Singer Finance at its inception in 2004 as Chief Executive Officer and was instrumental in developing and guiding Singer Finance from a zero base to what it is today with an asset base of Rs. 16.1 billion and turnover of Rs. 3.3 billion. The company has grown to 24 branches, 4 service centres of its own and 13 service centres at Singer Mega shops.

Group Chairman Mohan Pandithage and Singer Finance Chairman Aravinda Perera and Singer Group CEO Asoka Pieris all acknowledged the excellent work done by Shantha over the past 14 years and said: "We are confident that Thushan Amarasuriya will build and expand on the good work done by Shantha Wijeweera."