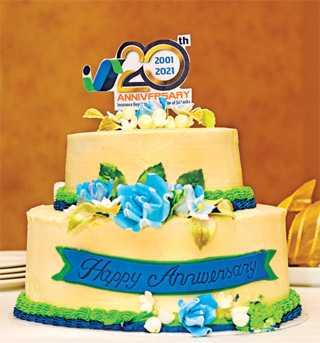 The Insurance Regulatory Commission of Sri Lanka's (IRCSL) 20th anniversary was on 1 March. In celebration of the anniversary, a simple ceremony was held at the Ruby Ballroom – Hilton Colombo on 30 March amidst the gathering of the IRCSL Chairman Razik Zarook, Commission Member Haris Salpitikorala, Director General Damayanthi Fernando, corporate management and staff members.

The IRCSL's website, Facebook, LinkedIn page and YouTube channel were launched with the objective of disseminating messages on insurance awareness creation. All longstanding staff members were recognised for their loyalty, dedication and hard work.

As a part of the anniversary celebrations, the IRCSL has planned out a number of activities during the year.

The IRCSL has constantly implemented regulatory measures for the development of the insurance industry since its establishment in the year 2001. During the 20 years, the IRCSL has achieved many milestones, including issuance of various rules, regulations and guidelines for effective regulation and supervision of the insurance industry to meet its objectives.