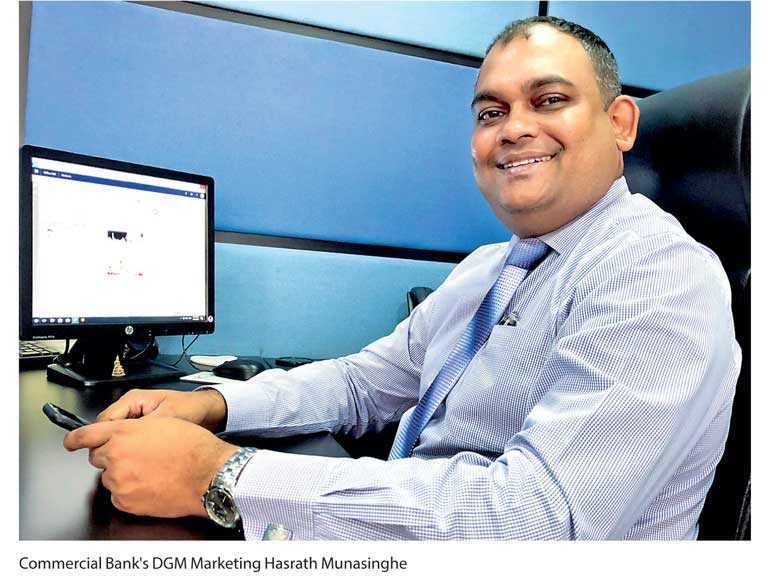 Technological innovation backed by a solid brand image, proliferation of Point-of-Sale options, well-timed customer-focussed offers and a sustainable approach to building the cardholder base are among the primary factors driving growth in Commercial Bank's Credit Card business, the Bank's Deputy General Manager (Marketing) Hasrath Munasinghe reasons in this exclusive interview.Excerpts:
Q: Commercial Bank began actively promoting Credit Cards recently. How is the Bank progressing in this area?
A: We have already achieved market leadership in terms of Debit and Credit Card point-of-sale usage value-wise, and we are growing at a faster rate than the market average in terms of new card issuance. Our market share is also growing steadily, in terms of credit card spends and advances. COMBANK cards have managed to stand out in an already heavily-competed market due to the unique value offers, superior service and state-of-the-art technological enhancements we offer. We believe that COMBANK credit cards have established themselves as the best-value credit cards in the market.

We have introduced many industry firsts in the credit card market since 2016. These include the first loyalty rewards scheme in the country to reward both Credit and Debit cards, and Near Field Communication (NFC) enabled 'tap and go' cards for both VISA and MasterCard branded cards.
Q: Is Commercial Bank able to offer any particular advantages to its credit card holders?
A: That is what we constantly strive to do and why COMBANK credit cards are considered the best-value cards in the market. Our cards regularly offer attractive deals covering hotel accommodation, household white goods, dining, fashion retail, jewellery and travel throughout the year. Our main promotions such as Dine and Smile, Easy Vacations and Seasonal Offers run over a period of time, rather than for just a few days, allowing customers a chance to actually make use of the discounts and special offers. We ensure that the offers are meaningful and useful to our customers and are well-timed, such as retail discounts during festive seasons, and travel and dining discounts during school vacation periods.Additionally, Commercial Bank offers Max Loyalty rewards, which is the only loyalty scheme in the country to reward both Credit and Debit card usage.

With changing consumer behaviour, we have noticed that customers tend to allocate a substantial share of their credit card spends on daily essentials. Taking this into account, Commercial Bank offers customers attractive discounts in supermarkets and became the only Bank in the country to tie up simultaneously with the top four supermarket chains in the country to offer promotions to its valued customers.

Another important advantage is that our cards are backed by a strong 261 branch network and a network of more than 750 ATMs that are EMV compliant, assuring maximum security.

Bearing in mind that cards are an important element of lifestyle, we have introduced several industry firsts such as Sri Lanka's first sports-related credit card in association with the Nuwara Eliya Golf Club; the country's first card to give away free data in association with Mobitel; pre-paid gift cards that can be given to a family member or staff;and a pre-paid web card to minimise the perceived risks involved in online purchasing.

We have also streamlined our processes to provide maximum convenience to customers, with the introduction of services such as Over-the-Air PIN where customers receive their PIN numbers through a text message.
Q: In terms of card technology, who drives advancements, the issuing banks or the brand owners?
A: The card schemes guide the issuing banks and introduce emerging trends, technologies, case studies and success stories from other markets. The issuing banks, like Commercial Bank in our instance, evaluate all these aspects and decide what products, services and technologies are in harmony with their capabilities and strengths in the market place and would resonate with the customers.

At Commercial Bank we are passionate about introducing technology that matters in the lives of our customers so a perfect synergy between whatever we adopt and our portfolio and image is a must.So in essence, brand owners and issuing banks work hand-in-hand to provide a superior and up-to-date product portfolio to the customers.
Q: What new technological advancements has Commercial Bank adopted in respect of its credit cards?
A: As mentioned, Commercial Bank made history by being the first Bank in Sri Lanka to issue cards for contact-less payments from the two leading global card brands VISA (VISA payWave) and MasterCard (Master PayPass). Our product enhancements through technology have largely focused on making our cards secure, such as combined data authentication and acquiring various other international standard security features.

However, to develop the card business, it is not sufficient to introduce a variety of card products from internationally-renowned brands and offer attractive discounts. In a country like Sri Lanka, the main barrier to increasing card usage and issuance is the unavailability of card acceptance machines in outlets, mainly in the outstations. We are therefore partnering with vendors to provide simple solutions to this problem utilising technology such as Commercial Bank EasyPOS, which is a mobile POS that can be operated through a smart phone.
Q: What is the potential in the market for growth in credit cards? In which customer segments?
A: We believe there is tremendous potential to further expand the Credit Card market, especially in the middle income segments, primarily those residing in the outskirts of the capital and in large urban hubs in the outstations. The infrastructure that facilitates card transactions also plays a big role in this process. With new and streamlined technologies that are secure, the market is undergoing rapid change.
Q: Almost 80% of credit card spending is from the Western Province. How does the Bank plan to address this?
A: While that is true, an analysis of the market shows that spends in the outskirts of Colombo are growing faster than inside Colombo. Similarly card spends in the outstations,especially urban centres also are showing healthy growth. Commercial Bank is one of banks that started introducing Credit and Debit card offers from reputed outstations merchants. These outlets are not part of the big retail chains, but are standalone outlets that are popular in big towns. And, as already mentioned, we are also concentrating on providing Point-of-Sale machines to merchants to enable more and more card transactions.
Q: Card acquiring is equally important. How is Commercial Bank placed in this area?
A: Card acceptance solutions or acquiring as it is known in the industry, is a very important aspect in our country's road map for a cashless society. Hence we at Commercial Bank accord much importance to the acquiring business.

Card acquiring is basically a two-pronged exercise, the dissemination of POS terminals and the establishment of Internet Payment Gateways (IPGs).The Bank has substantially grown its business in this discipline and won many large corporate accounts during the past two years.

In IPG services, in terms of volumes, Commercial Bank is already the market leader, and in the POS machine business too we have recorded remarkable growth, faster than the market growth rate. We offer several different types of POS machines such as GPRS POS, the standard POS machine and the mobile POS to suit customer requirements.

The Bank hasalso enabled acceptance of China Union Pay Cards on Point-of-Sale machines. The newest technology that we have introduced is to offer our Internet Payment Gateway (IPG) services through MasterCard Payment Gateway Services (MPGS) which is one of the best IPGs around when it comes to stability,security and reliability. The solution provided is a hosted solution with fully functional Disaster Recovery capabilities.
Q: Commercial Bank is also a leading player in the Debit Card sphere. How have you approached the Debit Card business?
A: Commercial Bank is the undisputed market leader in the Debit Card business, leading with a huge margin over the second largest player. But while Commercial Bank has the largest and most active Debit Card base in the country, Debit Cards are still predominantly used for withdrawing money from ATMs. However, a typical Debit Card offers a plethora of other services including purchase of goods and services. To address this situation, Commercial Bank was one of the first banks to extend discount promotions for Debit Cards as well. This has resulted in a remarkable improvement in the usage of Debit Cards at merchant points.

The Bank has also developed many sector specific Debit Cards to drive usage. Among some of the industry firsts we have achieved are the 'Ransalu' Debit Card for apparel sector employees, the Remittance Card for remittance recipients, the SME Privilege Card for Small and Medium Entrepreneurs, the INSEE Loyalty Card – the first dealer loyalty card in the country – and the Smart Tea Card for tea smallholders.

The Bank has taken steps to replace magnetic cards with more secure chip cards such as MasterCard Chip and PIN Card, another first in Sri Lanka.
Q: Does the Bank apply more stringent evaluations than its competitors on eligibility of applicants for Credit Cards?
A: Firstly, it is important to stress that credit evaluations are in the best interests of both the issuer of a Credit Card and the prospective cardholder. However, it is not appropriate to comment on whether Commercial Bank adopts more stringent credit evaluation criteria since we are not exposed to the credit policies of other banks. Nevertheless, we can say with confidence that as a respected bank that conforms to ethical business practices, Commercial Bank takes great care to maintain transparency and responsibility when granting any kind of loan facility.

It is important to understand that Credit Cards are equivalent to any loan granted and that their effects are two-fold. There is an inherent risk to the issuing bank of default and more importantly there is the risk to the customer's credit profile due to Credit Card debts. Even a negligible amount of badly managed Credit Card debt could mean that the customer's credit profile can be negatively affected and that he or she may not be able to obtain a facility from a financial institution.

At Commercial Bank, we carry out our credit evaluation procedure in line with the Bank's policies before issuing Credit Cards. We are careful to evaluate the customers' repayment capacity in order to maintain sustainable lending practices, which are more important to us than growing sheer volumes.
Q: Critics of Credit Cards say they encourage spending beyond one's means and represent a debt trap. Your view?
A: Well, as its name implies, it is a credit facility and thus a liability for the customer. This is one reason why credit screenings and assessments of repayment capacity are meticulously carried out prior to approval of a Credit Card. Speaking for Commercial Bank I would like to reiterate that as a sustainable and ethical bank we do not lend to an unsustainable level. We promote the concept of utilising a Credit Card as a means to achieving the dreams and aspirations of the cardholder in a sustainable manner. At the outset we carefully evaluate the card applicants and allocate appropriate credit limits which are enhanced based on the repayment patterns.
Q: What, in your view, is the next big thing in Credit Cards?
A: We believe that the QR code based payment system will make a big impact in the payment industry. A normal card transaction will be a matter of scanning of a QR code from ahand-held device for the back-end payment process to be done and the card to be debited. This is already big in most large Asian markets, so we can anticipate it to be the next big thing in payments in Sri Lanka.