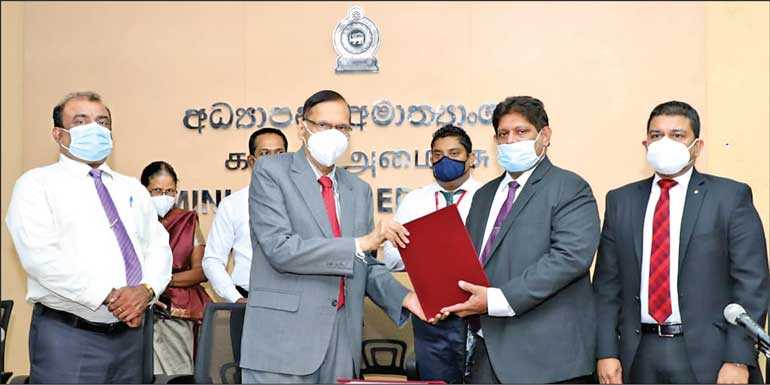 From left: Additional Secretary (School Affairs) L.M.D. Dharmasena, Minister of Education Prof. G. L. Peiris, SLIC Chairman Jagath Wellawatta and SLIC CEO Chandana L. Aluthgama
---
Free medical and personal accident cover for children powered by Sri Lanka Insurance
---
The 'Suraksha' children's insurance policy granted by the Ministry of Education to all school-going students free of charge has once again been awarded to Sri Lanka Insurance the State insurance giant to facilitate the process.

The official handing over of the Suraksha policy was held on 4 January at the Ministry of Education with the participation of Minister of Education Prof. G. L. Peiris, Additional Secretary (School Affairs) L.M.D. Dharmasena, SLIC Chairman Jagath Wellawatta and SLIC CEO Chandana L. Aluthgama.

This unique scheme 'Suraksha' was initiated as a collaboration of the education ministry and SLIC in the year 2017. SLIC will commence facilitation of the policy through its exclusive branch network of 158 outlets to 4.5 million school children from all walks of life in government, private and international schools and also extends to venerable student priests in Pirivena education.

The 'Suraksha' insurance scheme also falls under the 'Insurance for All' concept of Sri Lanka Insurance to provide protection for each and every citizen of Sri Lanka. The Government and Sri Lanka Insurance came forth to protect the children of the nation understanding the critical need to assist both the physical and mental well-being of all Sri Lankan children by ensuring financial assistance in case of illnesses, accidents and disabilities both in and out of school, ensuring uninterrupted education for children.

Under the Suraksha Scheme, each schoolchild would receive a hospitalisation cover worth Rs. 200,000, outpatient benefit of Rs. 10,000, Critical or prolonged lines coverage worth of Rs. 1,500,000, personal accident cover worth of Rs. 200,000 covering permanent total disability, permanent partial disability, temporary disability and life insurance coverage worth of Rs. 200,000 (only for the parents of students who are below the poverty line).