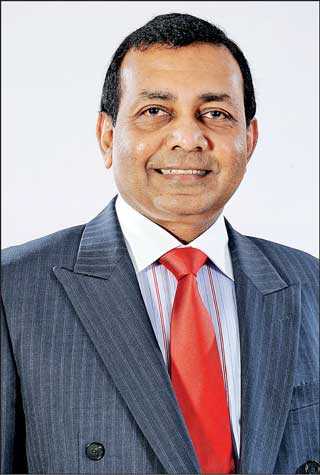 National Asset Management Chairman Alex Lovell
---
Sri Lanka's pioneering unit trust company National Asset Management Ltd. (NAMAL) marks its 30th year of operations this year. Set up in 1991 NAMAL is a subsidiary of Union Bank and in association
with DFCC Bank and Ennid Capital Ltd. as major shareholders. 

NAMAL launched Sri Lanka's first equity unit trust the National Equity Fund in 1991 and Sri Lanka's first listed unit trust the NAMAL Acuity Value Fund in 2009. A leader in the equity unit trust space NAMAL also manages the NAMAL Growth Fund. The NAMAL High Yield Fund which was launched in 2012 invests in short term fixed income products and provides the opportunity for investors to maximise returns on their savings whilst ensuring that the funds invest in low-risk products.

In keeping with its track record of innovative product offerings, recently NAMAL launched an equity fund focused entirely on the banking sector. The NAMAL Bank Fund aims to provide investors with an opportunity to benefit from investing in the Sri Lankan banking sector which has contributed to and been a beneficiary of the economic growth of the country. The fund also aims to enable investors to make use of the opportunity provided by the historically low multiples that the banking sector is trading at. 

NAMAL's flag ship equity unit trust, the National Equity Fund, which was launched in December 1991 has generated an annualised return of 11.94% since inception up to 31 December 2020 in comparison to a return of 7.96% from the ASPI during the same period. All Investors have the opportunity to benefit from NAMAL's cohesive investment focus which comprises of one-on-one discussions with company management, market research and financial analysis and valuations.

Commenting on this milestone NAMAL Chairman Alex Lovell stated, "NAMAL has been in the forefront of the Unit Trust business and is a provider of alternate investment sources for the Sri Lankan public. The company has made a mark as an asset manager that offers innovative solutions whilst ensuring optimum returns to investors. Backed by robust partnerships the company has etched itself a solid financial standing and has garnered an impeccable reputation of trust and service excellence that spans over three decades." 

He further stated that the company is aptly equipped with investment know-how and with a highly skilled team of professional's savvy with vast proprietary market knowledge which provides the company the ability to deliver attractive returns to investors. 

More information on NAMAL funds can be viewed on www.namalfunds.com .