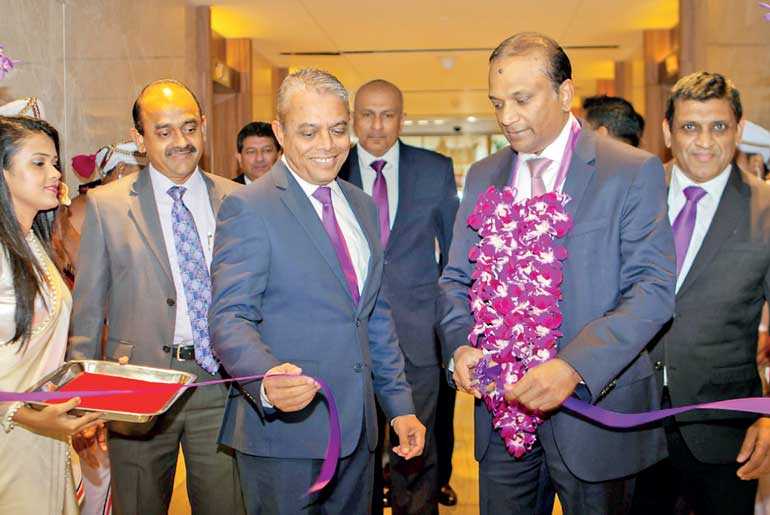 From left: Softlogic Life Managing Director Iftikar Ahamed, Softlogic Group Chairman Ashok Pathirage and Softlogic Life Executive Director Chula Hettiarachchi cutting the ceremonial ribbon to unveil Softlogic Life's new office

Happy employees of Softlogic Life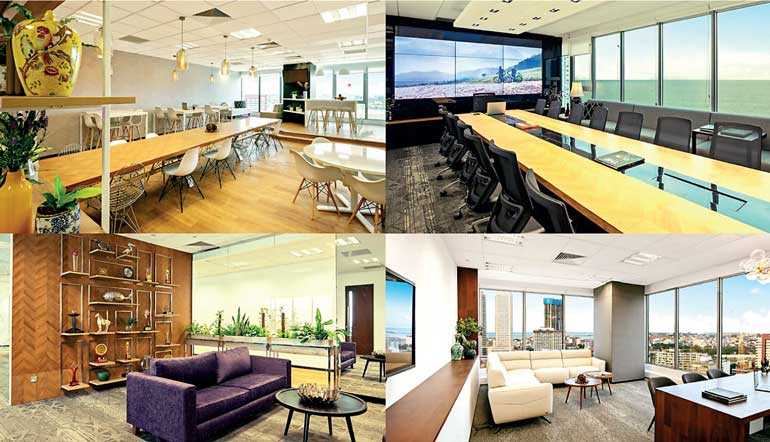 Inside Softlogic Life's modern office space
---
Marking a new era of unprecedented growth and top-of-the-line service ethos, Sri Lanka's fastest-growing Life Insurer Softlogic Life has moved its corporate office to One Galle Face Tower, an international-grade business tower in the heart of Colombo.
The strategic move to a spanking new office building will include the Corporate Office of the Financial Services Sector of the Softlogic Group and will comprise; Softlogic Capital, Softlogic Life, Softlogic Stockbrokers and Softlogic Asset Management – at the best Corporate Address in Sri Lanka, designated No. 1 Galle Road.

The move will bring into one location the very best of talent and experience there is in Sri Lanka's financial services arena from where the Financial Services Team will launch a new phase, a new wave of development, progress and achievements, which initiative has quite aptly been named Destination One, signifying to excel in each and every business venture of the Sector.

The new office has been beautifully crafted with some of the most amazing spaces created to enable working in an environment that is inspirational and uplifting. When the Shangri-La Office Tower is fully occupied it is estimated that there will be around 7,000 people working there and taken with the Mall, where once again the Softlogic Group has a major presence – will see a monthly footfall of 180,000 customers per month – all of whom represent a super proposition for financial services at the location.

The financial services arena is one that is changing rapidly driven by Innovation, Digitalisation, Technology, Big Data, AI and the list goes on. The Softlogic move is aimed at pushing forward with innovative ideas, smart work, being lean and efficient, more productive and of course being more profitable – with the new office set to provide an Inspirational Platform that will enable exceptional performance.

Softlogic Life became the first and the fastest Insurer to cross Rs. 10 billion in revenue within a short period of 18 years. The company has been consistently improving on turnover, surpassing industry average growth rates during the last five years – a compound annual growth of 35% against the average industry growth of 16% – being the only company in the top 5 life insurers in Sri Lanka to showcase consistent market share movement in the past few years.

Softtlogic Life has always prioritised their commitments towards helping their customers achieve the best in life through their strong life and health insurance portflolio as well as by inspiring healthy choices in terms of nutrition, fitness and wellness via communication such as their iconic 'Leda Leda' campaign that recently enabled them to become the youngest ever brand to become the 'Brand of the Year' at Effies awards 2019.

The company has trailblazed a wave of novel innovations and technologies to deliver maximised convenience to their valued customers. Driven by a vision with a higher purpose – 'Drive Sri Lanka towards life with better quality' – Softlogic Life is continuously taking steps to enhance the quality of life of Sri Lankans in terms of mind, body and soul.

Commenting on Softlogic Life's shift to One Galle face Tower, Managing Director Iftikar Ahamed said, "Our move to the iconic One Galle Face Tower – the number one business office complex in Sri Lanka – epitomises Softlogic Life's exceptional trajectory of growth over the last few years which is marked by delivering top-of-the-line products, services and value to the many stakeholders we partner and serve on a daily basis. In the Life insurance industry, Softlogic Life stands at a unique competitive position due to the strategies that we have implemented during the last few years and this strategic shift will further empower us to serve our beloved customers in more unique and modern ways. We all are doubly inspired to create effective and innovative life insurance solutions for them while sustaining improvements in our financial performance as well."

Recently, Softlogic Life made it to the Forbes Asia's Best Under A Billion 2019 list, a business ranking which spotlights Asia's 200 top-performing listed companies with less than $ 1 billion in revenue with consistent top- and bottom-line growth. Softlogic Life was the only company in Sri Lanka and one of the only two insurance companies in the Asian region to achieve this momentous feat.

One Galle Face is Colombo's first internationally developed and managed mixed-use development project. Helmed by Shangri-La Group, One Galle Face comprises four distinct entities: One Galle Face Tower, One Galle Face Mall, The Residences at One Galle Face, and Shangri-La Hotel Colombo. As a new paradigm for live, work, play and stay in Colombo, One Galle Face combines vibrant retail and entertainment offerings, elegant living spaces and a premier office address with the warm service and hospitality for which Shangri-La Group is renowned.