Asset Management arm of Softlogic Capital launches two unit trusts
Softlogic Invest, the Asset Management arm of Softlogic Capital PLC, recently launched two unit trusts or mutual funds – Softlogic Equity Fund and Softlogic Money Market Fund after obtaining the license from the Securities Exchange Commission of Sri Lanka (SEC).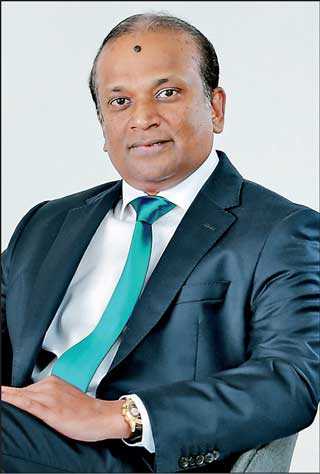 Softlogic Holdings Chairman/Managing Director Ashok Pathirage


Capitalising on the existing expertise coming in via the Softlogic financial services cluster which includes – Softlogic Life Insurance, Softlogic Finance and Softlogic Stockbrokers, the introduction of these two funds marks the entry of Softlogic's asset management arm – Softlogic Asset Management Ltd., into the retail market of the financial services space. Both these investment schemes will be open to anyone with a minimum investment of Rs. 5,000 a month.

Softlogic Invest has merged the two worlds of financial investments and digital services to offer a simple and unique investment experience to investors. Enabling an investment culture in Sri Lanka, Softlogic Invest will catapult people to achieve their dreams and goals while offering full disclosure and control of their money through this newly launched brand.

"Softlogic Invest will be one of the few investment arms in Sri Lanka that extends anyone the opportunity to start investing with a mere Rs. 5,000 and go on to even become part of a billion rupee investment. We see a huge vaccum in terms of salient and reliable asset management mechanisms for the young and aspiring Sri Lankan's of today and we hope to make Softlgic Invest the brand that caters to that segment," commented Softlogic Holdings PLC Chairman and Managing Director Ashok Pathirage.

A Unit Trust fund is a collective investment scheme which pools together into one account. The money is then invested in a portfolio of financial securities. Based on the performance of the total investment, the Net Asset Value is then divided by the number of units, giving the investors also known as unitholders, their respective Net Asset value per unit.

"With the launch of our two Unit Trust Funds, we are now fully realising our goal to bring institutional quality offerings to the retail and private wealth communities in Sri Lanka. Furthermore, it is a reflection of the increased demand Softlogic Invest has seen for its investment solutions from the retail and private wealth channels," commented Softlogic Capital PLC Managing Director Iftikar Ahamed.

The Softlogic Equity Fund does not charge an upfront fee from its investors. The portfolio is actively managed using a bottom-up stock selection approach investing in listed companies in the Colombo Stock Exchange (CSE), where investee companies are evaluated by the fund managers and a research team. The Money Market Fund provides investors with short term returns and liquidity by investing in money market securities of companies rated "investment grade" (BBB- and higher) maturing in less than one year. With the ability to receive a return on investments – with the option to withdraw money within a day – The Money Market Fund strives to give the best possible yield enhancement for investors while safeguarding their capital.