Foreign holding in rupee bonds exceeds Rs. 300 b for first time in 52 weeks
By Wealth Trust Securities

The sentiment in the secondary bond market remained sluggish during the week ending 27 October as it failed to gather any momentum mainly due to a wait and see approach by local market participants.

This was ahead of the Treasury bond auctions due today, 30 October, where an total amount of Rs.25 billion will be on offer consisting of Rs.10 billion on a 2.06 year maturity of 01.05.2020 and Rs.15 billion on a new 7.11 year maturity of 15.10.2025.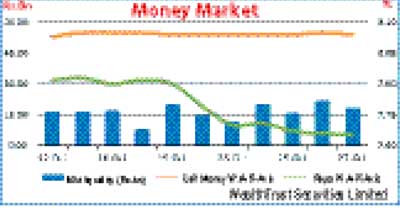 The last Treasury bond auctions conducted on 28 September for maturities of 01.10.2022 and 15.06.2027 recorded weighted averages of 10.09% and 10.31% respectively.

Limited amount of trades were witnessed on the maturities of 15.11.18, 15.09.19, 01.05.21, 01.08.24, 01.08.25 and 01.08.26 with its yields picking up marginally to intraweek highs of 9.55%, 9.80%, 10.15%, 10.22% and 10.35% each respectively.

The said sentiment was further supported by the mixed fortunes at the weekly Treasury bill auction which recorded an increase on the 364 day bill weighted average and a decrease on the 91 day bill weighted average. The weighted average on 182 day bill remained unchanged.

Meanwhile, the foreign holding in Rupee bonds continued to increase, recording its seventh consecutive week of inflows. The week ending 25 October saw an inflow of Rs.2.9 billion while its total outstanding amount exceeded Rs.300 billion for the first time since 26 October 2016.

The daily secondary market Treasury bond/bill transacted volume for the first four days of the week averaged Rs.3.63 billion.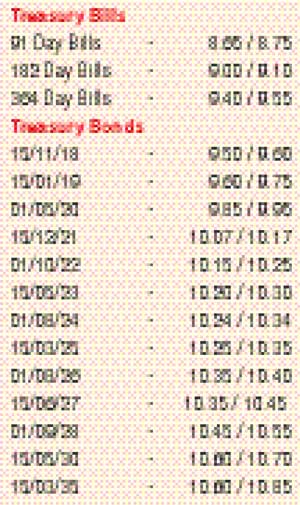 In money markets, the overnight repo rate was seen reducing further to average 7.68% for the week against its previous weeks average of 7.88% as the average net surplus liquidity in the system was seen increasing to Rs.16.96 billion in comparison the previous week's amount of Rs.14.18.

The Open Market Operations (OMO) Department drained out excess liquidity by way of auctions for outright sales of Treasury bills. The auctions drained an amount of Rs. 8 billion in total at weighted average of 8.46% for 49 days and 8.49% for 49 days. In addition it drained out liquidity throughout the week on an overnight basis at a weighted average of 7.25% as well.

The Central Bank of Sri Lanka's Treasury bill holding stood at Rs.50.99 billion at the end of the week.
Rupee appreciates

The USD/LKR rate on its spot contracts was seen closing the week stronger at Rs.153.45/55 against its previous week closing levels of Rs.153.65/73 subsequent to dipping to an intraweek low of Rs.153.92 on the back of export conversions and inward remittances outpacing importer demand.

The daily USD/LKR average traded volume for the four days of the week stood at $ 91.41 million.

Given are some forward dollar rates that prevailed in the market: one month – 154.30/40; three months – 156.10/20; six months – 158.45/60.