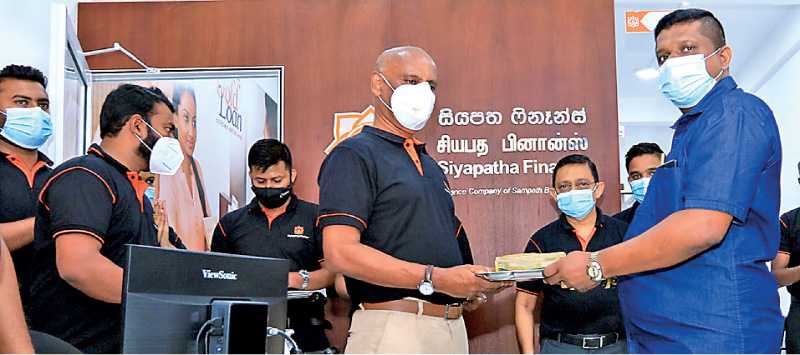 Siyapatha Finance Managing Director Ananda Seneviratne receiving the first deposit of the Dambulla branch
---
Celebrating its 15th anniversary, Siyapatha Finance PLC, licensed and regulated by the Central Bank of Sri Lanka (CBSL), and the largest fully-owned subsidiary of the Sampath Bank Group, ceremonially declared opened its final two new branches for the year 2020, in Matale and Dambulla respectively.

Located at No. 313, 315, Trincomalee Street, Matale and No. 705, Anuradhapura Road, Dambulla, the branches are the 39th and 40th of Siyapatha Finance network island wide. These are fully fledged branches that offer customer services in leasing, business loans, personal loans, gold loan, factoring, fixed deposits and saving accounts.

The ceremonial opening of the branches that took place in the latter two weeks of December 2020 was presided over by Siyapatha Finance Managing Director Ananda Seneviratne while only a limited number of company officials, stakeholders and customers were invited in order to maintain all COVID-19 health and safety regulations.

Speaking at the ceremony, Seneviratne stated, "Our customers have always been our priority. It is very important to us, at Siyapatha Finance, that we are available for the convenience of our customers. By opening branches in some of the more populated districts, we aim to extend our services to more people that require our assistance. We are confident that we will be able to be of better assistance by being equipped to serve them better and thereby welcome new customers into the Siyapatha Finance family."

Fueled by the drive to help communities achieve their business objectives, the organization is dedicated towards continuous expansion, by offering deposit facilities to rural areas and thereby contributing to the development of small and medium entrepreneurial efforts by supporting individual financial needs.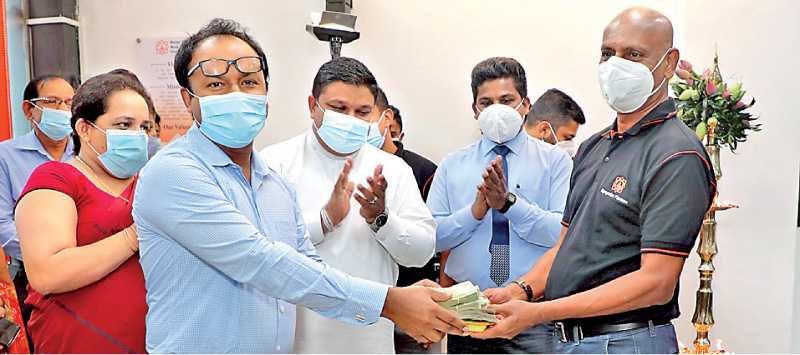 Siyapatha Finance Managing Director Ananda Seneviratne receiving the first deposit of the Matale branch
---