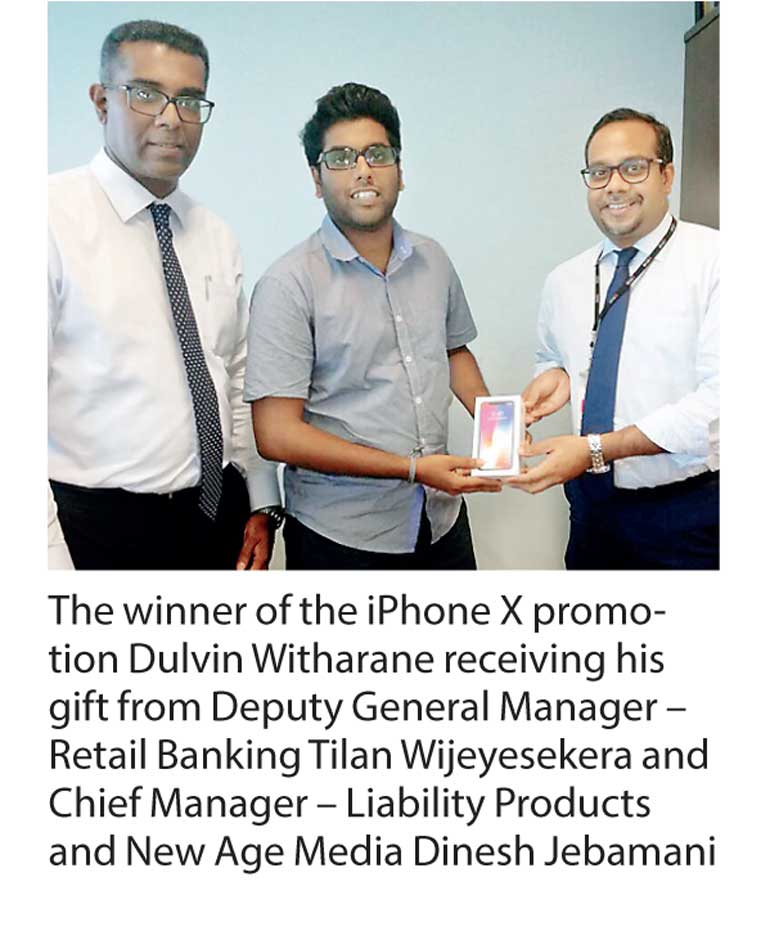 As a part of the social and digital media efforts of Seylan Bank, many events and special occasions have been digitalised to provide their customers with the best. Connecting with their fan base, Seylan Bank has a variety of activations to engage their customers.

The iPhone competition held in December 2017 attracted a number of fans to the Seylan Bank Facebook page and rewarded one lucky winner with a brand new iPhone X. Dulvin Witharane walked away with a brand new iPhone X, making him the 3rd customer Seylan Bank has rewarded with the latest iPhone through various competitions and engaging activities on the official social channels.

The bank also had innovative product launches and used social media as a key channel to drive traffic. Seylan Income Saver and Seylan Seylfie Youth Savings Accounts were promoted through social media to educate customers on the features and uses of the products.

The latest innovative feature introduced by the bank is the Facebook Messenger Chat Bot, the first ever Chat Bot in Sri Lanka's banking industry. The fully automated intelligent bot is updated regularly to provide customers end to end solutions for their daily banking queries in all three languages.

Another digital initiative was the drive to enrol customers onto digital banking platforms with the 'Prizes and surprises with Seylan Internet Banking' draw. This initiative was launched in order to onboard customers to use the online banking platforms of Seylan Bank. Winners of the draw were rewarded with iPhones, tabs and laptops along with cash rewards.

Having been acclaimed in the region for 'Best Use of Social Media in Marketing' the bank continues to promote convenient services to their customers and followers of its social media channels.