As millions of people prepare themselves to celebrate Avurudu, Seylan Cards heralds in a plethora of 'Raban Palena' offers and discounts for the discerning shopper this season.

Anticipating the importance of giving and celebrating another Sinhala and Hindu New Year, Seylan Bank has partnered with over 150 merchants across retail, dining, travel, lifestyle and homeware categories in the spirit of the festivities to offer its credit and debit cardholders with attractive discounts coupled with flexible repayment plans.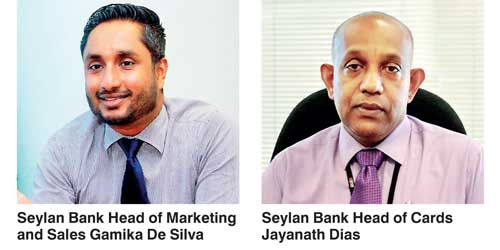 Commenting on this offer, Gamika De Silva, Head of Marketing and Sales at Seylan Bank said: "All customers of our Classic, Gold and Platinum Credit Cards can avail amazing discounts throughout the month of April and May. During this generously extended festive promotion, we strive to provide our cardholders with a host of privileges and unmatched offers that will give them the liberty to spend on their loved ones the way they want to make them feel special thus create an unforgettable season." Whilst partnering with over 20 elite hotels including Cinnamon Hotels and Resorts islandwide, Seylan Cards will be offering exclusive discounts up to 45% for ardent travelers to spoil themselves with an ecstatic getaway. Credit Cardholders can also avail themselves to a 40% discount at Arika Villa (1 April to 31 May), Arie Lagoon (15 March to 31 May), Villa Pinnawala (Until 31 December), Riu Sri Lanka Ahungalla (Until 20 April), Michelle Beach Hotel, Balapitiya (Until 20 April) and Royal Hills, Nuwara Eliya (Until 31 December) among many more.

To make your getaways more interesting, Seylan Cards has also introduced a one of a kind offer where Cardholders can save Rs. 10 per liter on fuel during the first and third Friday of every month until 31 December. Through this unique proposition, Seylan Cards anticipates to add more value to its Cardholders by providing superior value for money when pumping fuel whenever you go on a weekend outing throughout the year 2018.

In a bid to pamper its cardholders with a spectacular retail therapy, the bank has tied up with 75 partners such as Mondy, Avirate, Levis, Mango, Nike and Adidas offering exclusive discounts up to 30% giving a massive privilege for fashionistas to indulge themselves with their favorite brands. Further, Cardholders can also avail up to 20% Savings at Spring & Summer, 25% Savings at Kelly Felder, 20 % Savings at Cool Planet, and 25% at Crocodile as well.

Meanwhile, jewellery lovers can enjoy a whopping savings up to 55% discounts from Fior Drissage and up to 20% savings from Chamathka and Aminra Collections. Customers who have been eagerly waiting to modernize their homes with contemporary furniture and latest electronics can finally accomplish their aspirations as Seylan Credit Cards will be offering up to 30% savings at Singer, Damro and Abans showrooms country-wide.

"As the 'Bank with a Heart,' we have strategically identified and partnered with some of the most sought brands across all categories to offer great value to our Cardholders this Avurudu season, so they can make their family bondings more meaningful and noteworthy with Seylan Cards," said Jayanath Dias, Head of Cards at Seylan Bank PLC.

Seylan foodies now have the chance to savour their favourite dishes at Café Bagatalle, Coco Veranda, Tsing Tao and etc. while enjoying up to 30% savings off the bill. In addition to these exclusive discounts, Seylan Cardholders can now enjoy buy one get one free deals at Subway, The Sizzle and Café Noir on selected dishes through the Bank's much famed Seylan Cracker Deals. An additional savings of 10% is offered for purchases at Daraz.lk from 15 March to 14 April.

Extending the Avurudu joy to children, the bank is offering 30% savings for purchases at the Kids Warehouse and savings up to 20% at Mothercare, Toy Mart, Toy Liberty, Arista, Velona and many more.

With over 1,000 merchant outlets island-wide offering all range of top brands to its cardholders, Seylan Cards takes pride itself in becoming the card that enables its cardholders to go that extra mile to purchase their favourite brands/services whilst delivering great value thus making every transaction more meaningful.