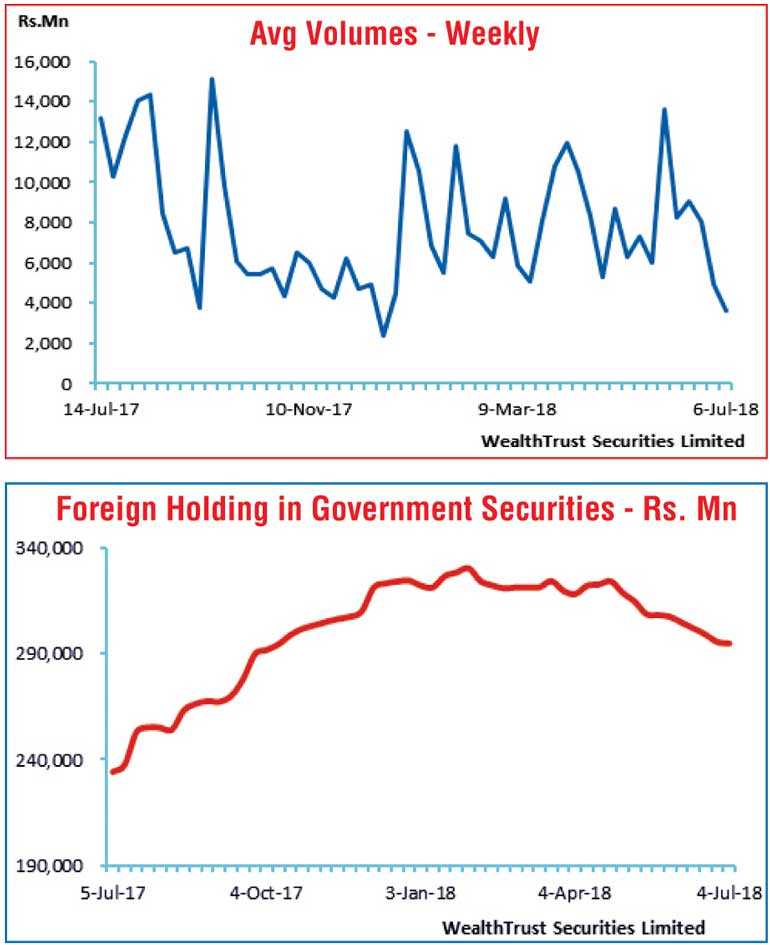 Foreign outflows continue for 10th consecutive week
Policy rates hold steady for second consecutive announcement
By Wealth Trust Securities

The average weekly traded volumes of Treasury bills and bonds in the secondary market were seen dipping to a yearly low of around Rs. 3.6 billion for the week ending 6 July, the lowest level witnessed since the first week of January 2018.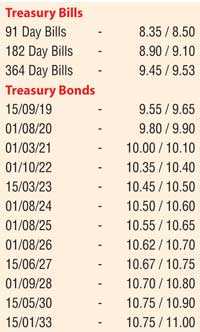 The prevailing sluggish sentiment led to the low activity levels as yields edged up marginally on the maturities of 15.12.20, two 2021s (i.e. 01.03.21 and 01.08.21), 01.10.22, 15.03.23, 01.01.24 and 01.09.28 to intraweek highs of 10.10%, 10.05%, 10.20%, 10.40%, 10.47%, 10.70% and 10.76% respectively against its previous week's closing levels of 9.80/90, 10.00/05, 10.05/15, 10.35/40, 10.43/47, 10.45/60 and 10.70/77.

The upward tick in the weekly Treasury bill weighted averages for a second consecutive week, coupled with the tight liquidity conditions, was seen contributing to the prevailing sentiment. Furthermore, foreign outflows in rupee bonds were witnessed for a 10th consecutive week but at a slower pace to record Rs. 0.67 billion for the week ending 4 July.

The Central Bank of Sri Lanka was seen holding its policy rates steady at 7.25% and 8.50% for a second consecutive occasion at its fourth monetary policy meeting held on 5 July.

In money markets, the overnight call money and repo rates averaged 8.48% and 8.43% respectively for the week as the OMO Department of the Central Bank of Sri Lanka continued to conduct overnight Reverse Repo auctions throughout the week in order to infuse liquidity at weighted averages ranging from 8.38% and 8.46%. The average net liquidity shortfall in the system for the week increased to Rs. 32.68 billion against its previous week's level of Rs. 13.61 billion.

Furthermore, the OMO Department injected a total amount of Rs. 4.43 billion on a permanent basis by way of outright auctions to purchase Treasury bills from the market at a weighted average ranging from 8.30% to 8.90% for durations ranging from 16 days to 172 days.

Rupee dips

The Rupee on its spot contracts was seen depreciating during the week to close the week at Rs. 159.20/35 against its previous week's closing of Rs. 158.20/40 on the back of importer demand.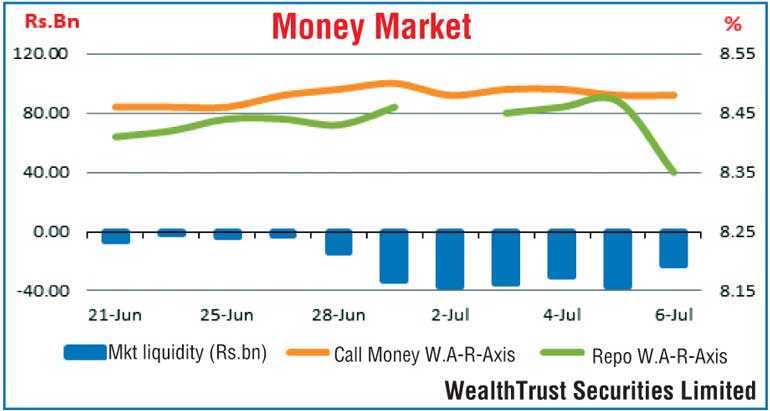 The daily USD/LKR average traded volume for the first four days of the week stood at $ 57.29 million.

Some of the forward dollar rates that prevailed in the market were one month - 160.05/15; three months - 161.70/85 and six months - 164.25/35.