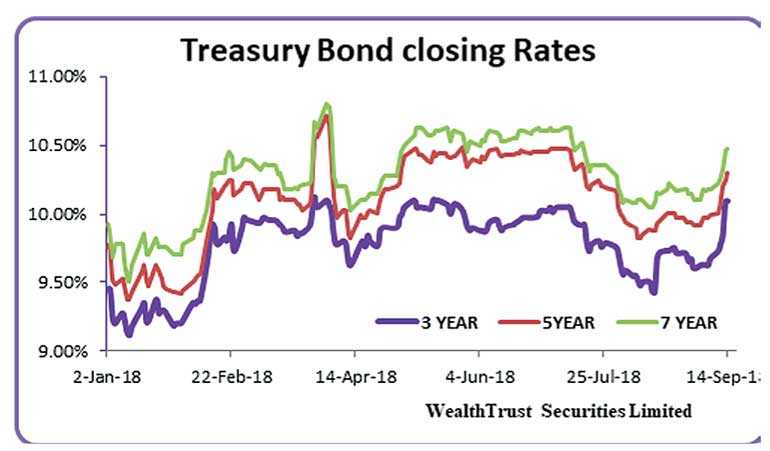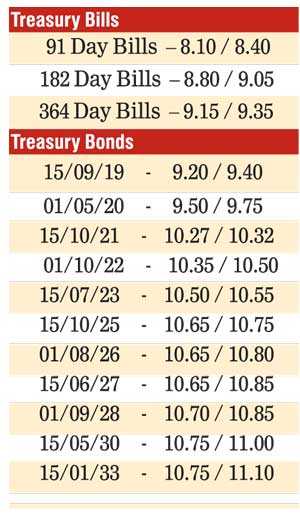 The fresh trading week commenced on a negative note, as the secondary bond market witnessed aggressive selling interest yesterday as yields spiked to levels last seen two months ago on certain maturities across the yield curve. The liquid maturities of 15.10.21, 15.07.23 and 15.10.25 saw its yields increase to daily highs of 10.33%, 10.52% and 10.75% respectively against its previous day's closing levels of 10.07/12, 10.27/32 and 10.45/50. In addition, further maturities of 2021's (i.e. 01.05.21, 01.08.21 and 15.12.21) the 01.07.22, 15.03.23 and 01.08.24 saw its yields increase as well to levels of 10.02% to 10.20%, 10.30%, 10.50% to 10.60% and 10.58% to 10.63% respectively. The total secondary market Treasury bond/bill transacted volumes for 14 September was Rs.10.88 billion.

In the money market, liquidity was seen turning to a net deficit of Rs.38.41 billion yesterday, with the Open Market Operations (OMO) Department of the Central Bank injecting an amount of Rs.7.50 billion at a weighted average rate of 7.85% for 4 days, in addition to adding a further Rs.33.46 billion to the system on an overnight basis at a weighted average rate of 7.94%. The overnight call money and repo rates averaged 7.98% and 8.00% respectively.


Rupee hits Rs.165.10

The rupee on its spot contracts were seen depreciating considerably yesterday to hit a new low of Rs.165.10, and closed at Rs.165.00/30 against its previous day's closing levels of Rs.163.60/80 on the back of importer demand and a globally strengthening dollar. The total USD/LKR traded volume for 14 September was $ 44.75 million.

Some forward USD/LKR rates that prevailed in the market were 1 Month - 165.85/15; 3 Months - 167.50/90; 6 Months - 170.00/40.