Foreign holding dips below 6% for the first time in nine months
By Wealth Trust Securities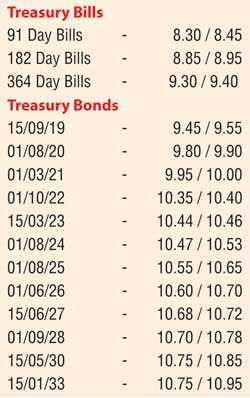 The secondary market bond yields were seen increasing marginally during the week ending 22 June 2018 in comparison to its previous week's closings on the back of selling interest mainly from foreign market participants. The foreign holding in Rupee bonds was seen dipping below 6% once again for the first time since the 20 September 2017, topping Rs. 25.16 billion in outflows over the past eight weeks and Rs. 2.87 billion for the week ending 20 June 2018.

The long end of the yield curve saw the maturities of 15.06.27 and 01.09.28 increase to weekly highs of 10.77% and 10.80% respectively against its previous weeks closing levels of 10.55/59 and 10.63/70. In addition, the 15.03.23 maturity on the belly end of the curve traded within the range of 10.38% to 10.46% while the short end of the curve saw the three 2021's (i.e. 01.03.21, 01.05.21, 01.08.21 and 15.12.21) changing hands within the range of 9.95% to 10.12%. Nevertheless the weighted averages of the weekly Treasury bill auction decreased across the board by 2 basis points each and 7 basis points on the 91 day, 182 day and 364 day maturities respectively. The continued demand was also witnessed in the secondary bill market with October and November 2018 maturities and March and June 2019 maturities changings hands at levels of 8.40%, 8.70%, 9.03% to 9.26% and 9.20% to 9.40% respectively.

The daily secondary market Treasury bond/bill transacted volumes for the first four days of the week averaged Rs. 8.03 billion.

Meanwhile in money markets, the overnight call money and repo rates averaged at 8.44% and 8.42% respectively for the week as the average net liquidity shortfall in the system improved to Rs. 2.13 billion as of Friday from its intraweek low of Rs. 19.42 billion. The OMO Department of the Central Bank of Sri Lanka continued to conduct overnight Reverse Repo auctions throughout the week in order to infuse liquidity at weighted averages of 8.46% and 8.50%.

Rupee appreciates during the week

The rupee on spot contracts appreciated during the latter part of the week from a weekly low of Rs. 159.95/05 to close at Rs. 158.90/00 against its previous weeks closing level of Rs. 159.60/70 on the back of selling interest and export conversions resulting from the release of $ 584 million on account of the Hambantota port project.

The daily USD/LKR average traded volume for the first four days of the week stood at $ 88.49 million.

Given are some forward dollar rates that prevailed in the market: One month – 159.65/85; three months – 161.25/55; six months – 163.65/95.