Foreign holding of rupee bonds increase further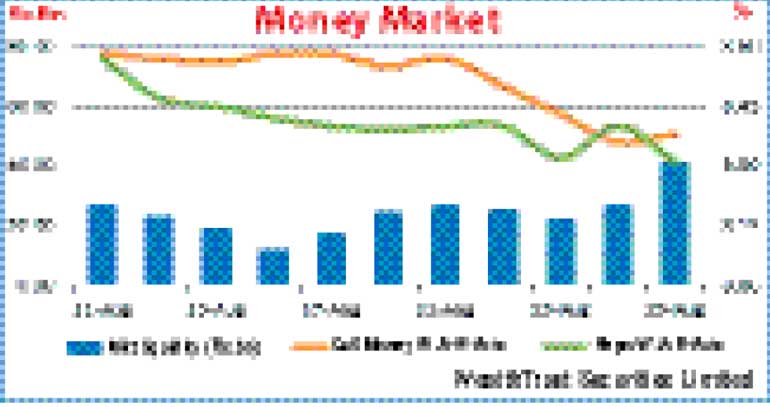 By Wealth Trust Securities

The secondary bond market witnessed a mixed outcome during the week ending 25 August, with yields increasing during the early part of the week and declining towards the latter part.

Yields of the three 2021 maturities (i.e. 01.03.21, 01.08.21 and 15.12.21) as well as the 15.05.23, the two 2026s (i.e. 01.06.26 and 01.08.26) and 15.05.30 hit weekly highs of 10.45%, 10.55%, 10.52%, 10.82%, 11.15%, 11.05% and 11.12% respectively, when compared against the previous week's closing levels of 10.40/50, 10.50/60, 10.45/52, 10.79/81, 10.95/105,10.90/95 and 11.10/15.

Furthermore, the weighted averages of the 182 day and 364 day maturities at the weekly Treasury bill auction too, increased further. However, buying interest at these levels, by both local and foreign investors resulted in the yields dipping once gain to hit lows of 10.25%, 10.40%, 10.25%, 10.58%, 10.70%, 10.75% and 10.91% respectively, reflecting for the first time in three weeks, a downward shift of the overall yield curve.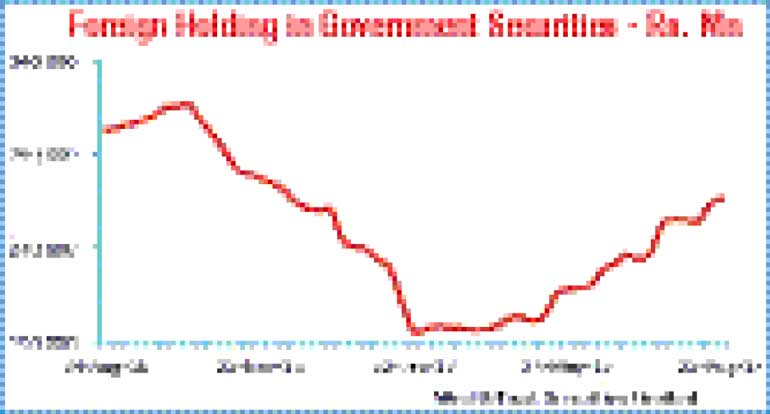 The foreign holding of Rupee denominated bonds was seen increasing by a further Rs.3.09 billion during the week ending 23 August to Rs. 266.24 billion, a level last seen in December 2016.

The daily secondary market Treasury bond/bill transacted volumes during the first four days of the week averaged Rs.5.32 billion. In money markets, the average net surplus liquidity in the system stood at a high of Rs.27.38 billion, with the OMO (Open Market Operation) Department of the Central Bank of Sri Lanka draining out liquidity throughout the week on an overnight basis at weighted averages ranging from 7.28% to 7.28%. The overnight call money and repo rates averaged at 8.45% and 8.37% respectively. Furthermore the OMO (Open Market Operations) Department of the Central Bank of Sri Lanka was also seen mopping up excess liquidity by way of auctions for the outright sale of Treasury bills, where an amount of Rs.8.5 billion was drained out in total at weighted averages ranging from 8.51% to 8.60% for periods ranging from 18 days to 32 days.

Rupee appreciates during the week

The rupee on spot contracts appreciated during the week to close at Rs.152.95/00 against its previous weeks closing level of Rs.153.32/40 on the back of foreign buying of Government securities and exporter conversion.

The daily USD/LKR average traded volume for the four days of the week stood at $ 64.32 million.

Some of the forward dollar rates that prevailed in the market were: one month – 153.75/00; three months – 155.70/00; and six months – 158.35/65.