By Wealth Trust Securities

Activity in the secondary bond market remained at a standstill yesterday, with two way quotes increasing and widening against its Fridays closings, mainly on the long end of the curve as most market participants were seen on the sidelines. Only the 15.03.23 maturity was seen changing hands yesterday within the range of 10.42% to 10.45%.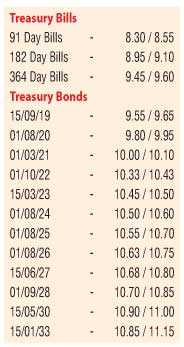 The total volume of Treasury bonds/bills transacted in the secondary market on 6 July was Rs. 3.74 billion.

The Open Market Operations (OMO) department of Central Bank was seen injecting an amount of Rs 0.93 billion in total yesterday, by way of outright purchases of Treasury bills, against a total buy back amount of Rs 20 billion for durations ranging from 38 days to 129 days at weighted averages of 8.25% to 8.35%.

A further amount of Rs 17 billion was infused by way of an overnight reverse repo auction at 8.44%, with a further Rs 10.80 billion been drawn down from CBSL's Standing Lending Facility. The net liquidity shortfall decreased to Rs 18 billion yesterday.

The overnight call money and repo rates averaged at 8.48% and 8.36% respectively.

Rupee dips marginally

The USD/LKR rate on spot contracts were seen depreciating marginally yesterday to close the day at Rs. 159.30/35 against its previous day's closing of Rs. 159.20/35, on the back of continued importer demand outpacing export conversions.

The total USD/LKR traded volume for 6 July was $41.85 million.

Some of the forward USD/LKR rates that prevailed in the market were: 1 Month - 160.15/30;

3 Months - 161.80/10 and 6 Months - 164.30/60.