Yields edge up marginally
Foreign selling returns back to the market
Money market liquidity fluctuates
By Wealth Trust Securities

The positive momentum in the secondary bond markets witnessed towards the latter part of the previous week came to halt during the week ending 7 September on the back of renewed foreign and continued local selling interest coupled with a fluctuating money market liquidity.

The overall yield curve reflected a marginal shift upward with the liquid maturities of 01.03.21, 01.10.22, 15.07.23 and 01.08.24 hitting intraweek highs of 9.53%, 9.85%, 10.00% and 10.15%, respectively, against its previous weeks closing levels of 9.45/50, 9.81/85, 9.90/93 and 10.00/02. In addition, the maturities of 2019's (i.e. 01.07.19 and 15.09.19), 2020's (i.e. 01.05.20 and 15.12.20), 2021's (i.e. 01.05.21, 01.08.21, 15.10.21 and 15.12.21) 01.08.26, 15.06.27 and 01.09.28 changed hands at levels of 8.93% to 9.00%, 9.23% to 9.38%, 9.50% to 9.65% 10.20% to 10.22%, 10.26% to 10.32% and 10.24% to 10.27%, respectively, as well.

The increase in yields was driven by renewed foreign selling in rupee bonds after a lapse of one week to record an outflow of Rs. 6.435 billion for the week ending 5 September, despite weighted averages at the weekly Treasury bill auction reducing by 3 and 2 basis points to 8% and 8.97% on the 91-day and 364-day maturities, respectively.

The daily secondary market Treasury bond/bill transacted volume through the first four days of the week averaged Rs. 4.82 billion.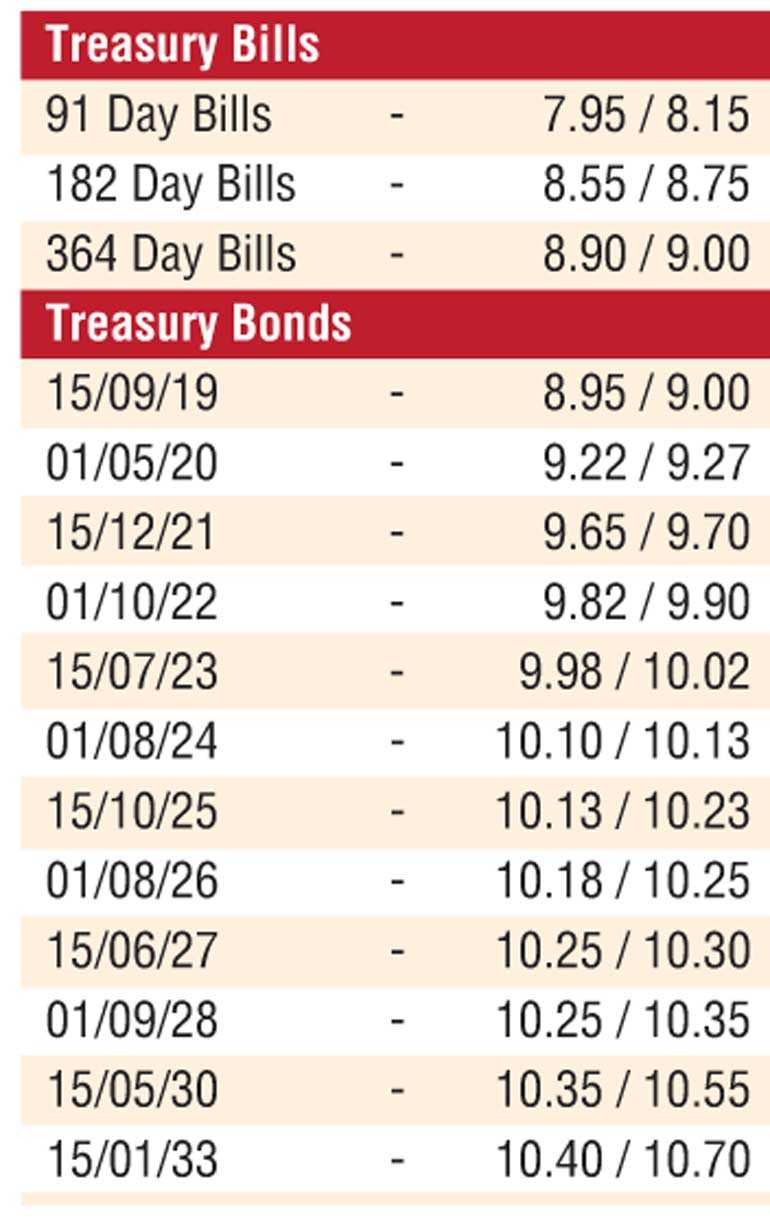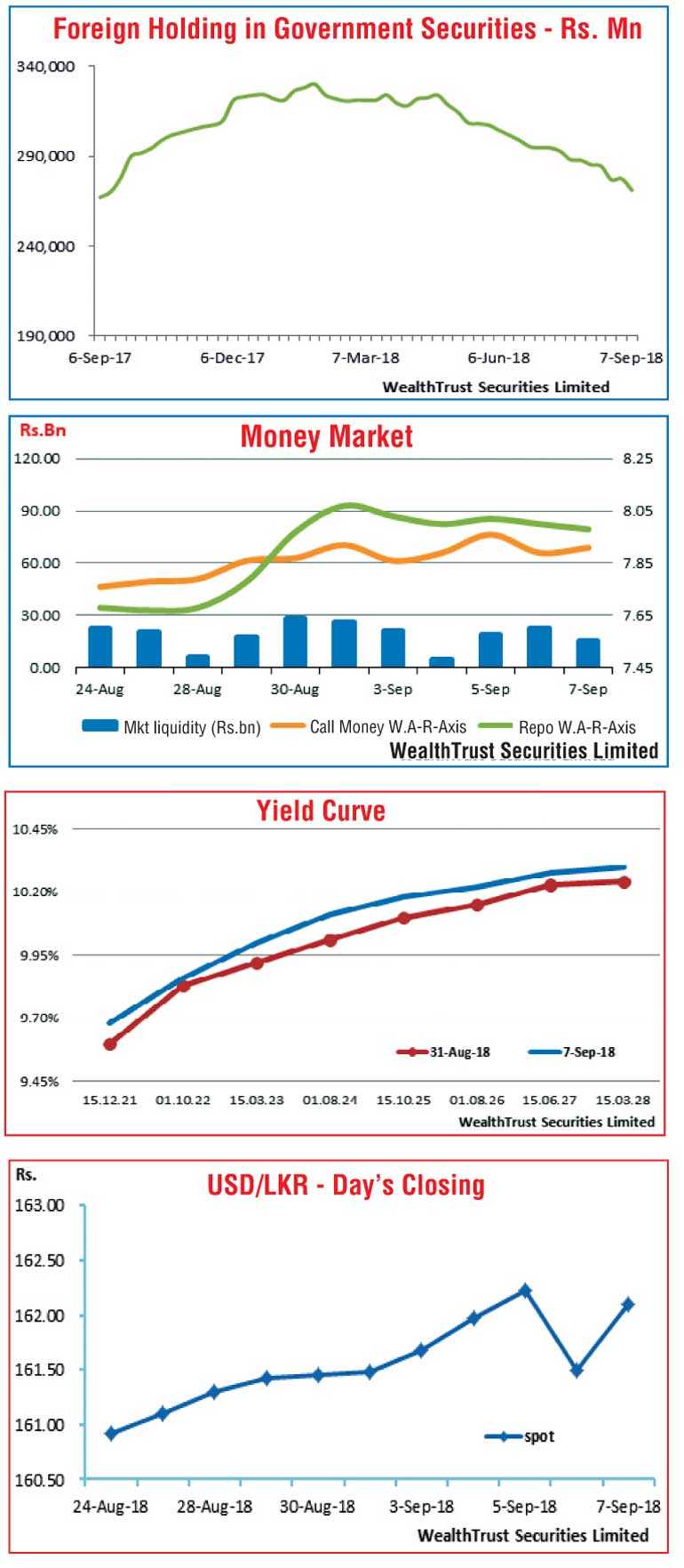 In money markets, the net surplus liquidity was seen fluctuating from a one-and-a-half-month low of Rs. 4.98 billion to a high of Rs. 22.76 billion during the week which saw the average overnight call money and repo rates increase marginally during the week to 7.90% and 8.01%, respectively, against its previous week of 7.84% and 7.83%. The Open Market Operations (OMO) Department drained out liquidity during the week on an overnight basis at weighted averages ranging from 7.82% to 7.87%.

Rupee fluctuates

In the Forex market, the downward trend on the rupee continued during the early part of the week as the USD/LKR rate on spot contracts was seen dipping to a new low of Rs. 162.50 against its previous weeks closing levels of Rs. 161.45/50. However, it was seen gaining grounds towards the latter part of the week to close the week at Rs. 162.00/20 on the back of selling interest by banks.

The daily USD/LKR average traded volume for the first four days of the week stood at $ 62.32 million.

Some of the forward dollar rates that prevailed in the market were 1 month - 162.75/05; 3 months - 164.50/80, and 6 months - 166.80/20.