The Securities and Exchange Commission of Sri Lanka (SEC) together with the Colombo Stock Exchange (CSE) organised the first Regional Small and Medium Enterprises (SME) forum on 25 July in Anuradhapura to educate entrepreneurs in the region about the recently launched 'Empower – the SME Board'.

The forum was held at the Golden Mango Resort in Anuradhapura and brought together more than 60 entrepreneurs representing various sectors including construction, tourism, agriculture, healthcare, manufacturing, trading, dairy farming, etc.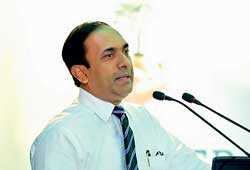 Empower – the SME Board was launched by the SEC and the CSE on 5 July with a view to creating a platform for SMEs to list on the CSE. The forum in Anuradhapura was the first in the series of workshops organised to educate entrepreneurs on listing on the 'Empower Board'.

Tharaka Amarasena, Branch Manager CSE Anuradhapura Branch delivered the welcome address followed by a presentation on SEC's SME initiative by Tushara Jayaratne, Director External Relations and Surveillance SEC. The main presentation on 'Listing on the Empower Board of the CSE' was conducted by Rajeeva Bandaranaike, Chief Executive Officer of the CSE. Subsequently, a panel discussion was organised with the aim of resolving concerns that the audience may have on raising capital on this listing platform. Rajeeva Bandaranaike, CEO of the CSE, Tushara Jayaratne, Director, External Relations and Surveillance, SEC, Nilma Samarasinghe, Head of Strategy, CSE and Chandana Wijesundara, Assistant Manager Listings CSE served as panellists.