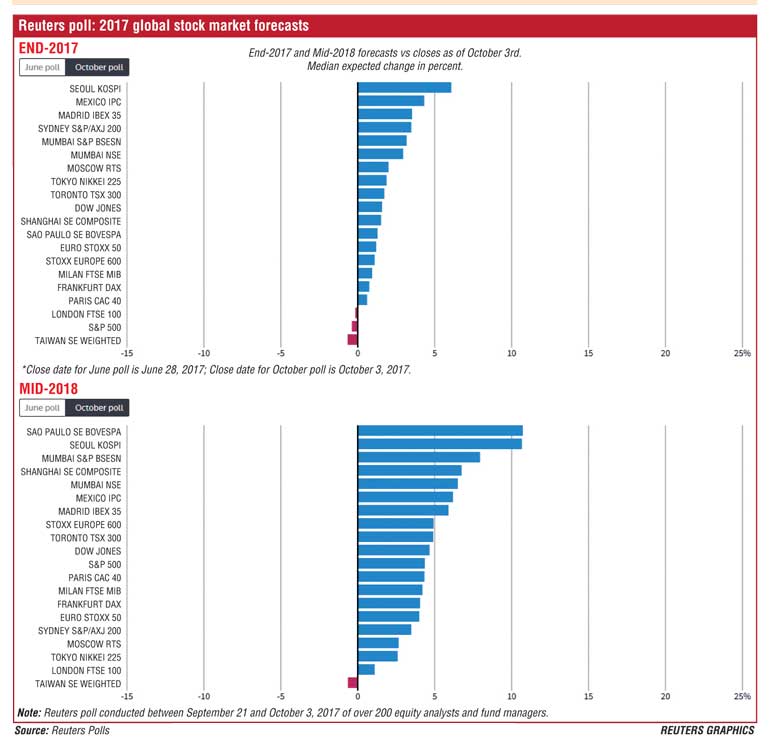 BENGALURU (Reuters): Global stocks will rise even more over the coming year as optimism about the global economy grows, but a slim majority of equity strategists polled by Reuters also said the current eight-year bull run will end in 2018.

World shares hit their latest in a run of new highs on Wednesday, with MSCI's 47-country 'All-World' index extending the blizzard of records that started in February to around 40.

That has resulted in stretched share prices, with valuations for a majority of stock indexes already trading above their five-year averages. But corporate earnings have yet to catch up to justify that surge.

More than 250 equity strategists and brokers around the world polled by Reuters nevertheless expect all but one of 20 indexes to rise further through to the end of next year.

But predictions for over a third of those indexes were tempered in the latest poll, taken Sept 21-Oct 4, compared with a previous survey just three months ago.

The recent surge in equity markets is also based on a view that the world economy is at last in a synchronous upturn, with most major central banks looking to move away from ultra-easy monetary policies.

About 55 percent of more than 100 equity strategists who answered an extra question said the current bull run in world stocks will end within a year, however. The remaining 45 percent of the strategists were split between two years or more.

The run-up since 2009 in US stocks is expected to extend into 2018, provided profits pick up to prevent shares from getting too expensive.

"The (US) economy and earnings are pretty good, and they're the building blocks," said Robert Doll, chief equity strategist at Nuveen Asset Management in Princeton, New Jersey.

"That's what's given us the good year-to-date (gains) and could continue to cause those of us who think stocks are OK but not great to be too cautious."

While economic momentum this year has been prominent, inflation has not risen to central banks' targets and shows no signs of surging any time soon. Despite that, several major central banks have shifted their bias towards policy tightening.

Subdued inflation will keep a check on sovereign bond yield rises over the coming year, according to a separate Reuters poll of bond strategists and analysts published last week.

The European Central Bank's expected move to cut its massive stimulus starting next year is likely to slow the pace of rises in European shares, the latest poll showed.

"The synchronized upswing in the euro zone will sustain the current bull market until the end of the first quarter of 2018," said Warin Buntrock, deputy chief investment officer at BFT IM in Paris. They are currently overweight euro zone equities.

"Starting from the second quarter of 2018, investors will gradually shift their focus on the coming inflexion of central bank policies. Equities will become more volatile and stagnate until the end of 2018 as valuations are rich," he added. Ajay Bagga, executive chairman at OPC Asset Solutions in Mumbai, agrees that a shift in mood is likely next year.

"Global macro ... will keep the current rally going for another four to five quarters before the Fed balance sheet reduction and ECB QE taper start impacting global liquidity and lead to a slowdown and eventual market correction," he noted.

While Britain's FTSE has risen modestly this year, uncertainty over Brexit negotiations is already denting investor sentiment towards sterling assets.

Emerging economies' stock markets are expected to outperform developed ones, despite concerns about a coming rise in protectionism and still-weak world trade volumes compared with recent peaks. East Asian stock markets are expected to keep rising through the rest of this year and next, driven by optimism about strong economic growth and better company earnings, even as share prices remain expensive.

Brazil and Mexico's roaring stock markets, already up in double digits this year, are forecast to rally to new record highs by the end of 2018 on a solid performance for both economies.

"Although fundamentals look supportive, this year's outperformance has lessened any valuation advantage for EM (emerging markets) assets," noted Michael Hood, research analyst at JP Morgan Asset Management in New York.

"EM equity valuations look somewhat elevated compared with long-term averages, but the same holds true for nearly all stock markets at this point."

Predictions for Indian stocks, however, were lowered compared to just three months ago on worries share prices have risen too far, too fast there and that the economy was headed for a rough patch.
---
Temasek's Vertex closes $210 million fund for southeast Asia, India
SINGAPORE (Reuters): Vertex Ventures, the venture capital arm of Singapore state investor Temasek Holdings, said it has raised a $210 million fund to invest in southeast Asian and Indian startups, exceeding its original target size of $150 million.

Vertex plans to continue its strategy of investing in early-stage technology companies in southeast Asia and India across enterprise technology, financial technology and consumer internet, it said in a statement.

Vertex was an early investor in ride-hailing firm Grab. In July, Grab announced a $2.5 billion fundraising round, which a source said values it at $6 billion.

Vertex's recent investments include SpaceMob, which has been acquired by co-working space startup WeWork, remittance payments firm InstaRem and digital marketer Synup.

The combined Vertex Ventures Southeast Asia and India team operates out of three main offices in Singapore, Bangalore, and Jakarta. "In addition to our current offices, we will expand our presence to other SEA cities in the near future to better access local opportunities," Joo Hock Chua, managing partner, said.

The new fund is Vertex's third for the region, but the first with external investors. Vertex's previous two funds for southeast Asia were fully funded by Temasek Holdings.