Foreign investor confidence underscores market potential

Experts confident locals can enjoy market pick up with foreigners

Forum gives tips and advice to would-be astute investors

CSE officials pledge to develop market further and support investors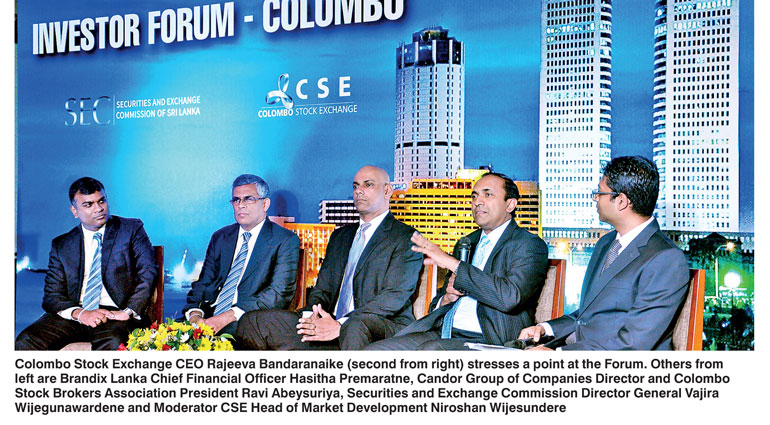 By Uditha Jayasinghe

Judicious, well-prepared investors willing to do their homework and have staying power would do well by investing in the Colombo Stock Exchange (CSE) and join foreign investors cashing in on high returns, experts believe.

Sri Lanka's stock market has seen a strong return of foreign investors this year with Rs. 30 billion flowing in, which is higher than Rs. 25 billion seen for the same period in 2013 and 2014. This turn of events was described as "extraordinary" by Colombo Stock Brokers Association President and Candor Group Director Ravi Abeysuriya who believes patient local investors who are dedicated to understanding macroeconomic developments as well as specific companies can join foreign investors in enjoying high returns.

Addressing a packed Investor Forum in Colombo organised by the CSE Abeysuriya was upbeat of the returns shown by top Sri Lankan companies, especially in the sectors of industrials, financials and consumer staples.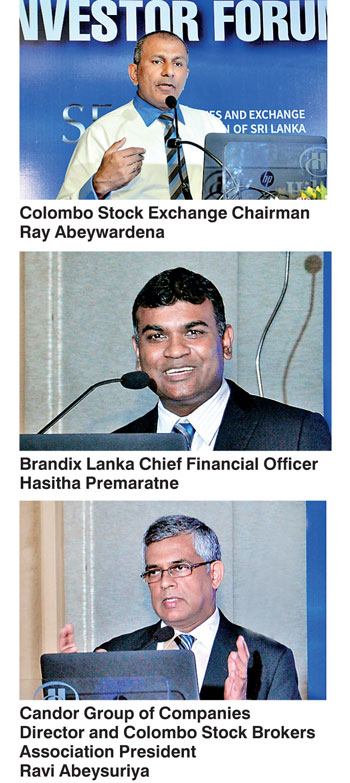 "Foreigners see value in Sri Lanka but our investors do not. Inflows have been increasing for 24 consecutive weeks and this indicates foreign investors have confidence in the stock market's growth potential," he told the gathering.

Sri Lanka's blue chip companies have understandably performed well and are likely to continue their dominance over the medium term. However, Abeysuriya pointed out that if local investors use the same tools or "screens" as foreigners then they would have the knowledge to make the best picks without being swayed by emotion.

Local investors usually tend to be unnecessarily cautious and come in later than their foreign counterparts, Abeysuriya said, recalling that in previous years most local investors entered the market during the "mania phase" and then panicked when the market cycle lost momentum and sold out, sometimes at a loss.

"Smart investors would get into the market now. Don't wait till everyone gets into the market to get into the market. But once you get in you should have the emotional staying power. Please do not leverage because if you leverage then you don't have the margins. This has happened before where investors have borrowed from banks and then find that they don't have staying power because they have to repay loans and interest," he said.

Abeysuriya believes sensible steps are the best steps. "If you don't have time to study in-depth the financial reporters of companies please find an advisor to pick what is sensible. Investors should make recommendations based on research," he added referring to the stock brokers and financial advisors in the audience.

"Regularly review portfolios, price to book valuations, total returns. Most investors go on rumour. The stock market is not inherently risky. The risk comes from not knowing what you are doing. Educate yourself, identify and understand securities, take time to learn about companies." He also called on investors to consider when they would like to exit the market and be practical about profit taking rather than being dragged along by greed.

Sri Lanka's social and economic progress when compared with the rest of the world can be viewed in a positive light Bandix CFO Hasitha Premaratne stated during a presentation on the Macro-Economic Overview of the country.

Premaratne, highlighted the impact of global developments, infrastructure development in Sri Lanka, government policies, foreign relations, good governance, the post war environment and stability of the government on the economy and corporate results.

"The prevailing peace in Sri Lanka and efforts made by the Government to improve reconciliation efforts remain one of the key selling points," he said.

Even though policy stagnation due to complex coalition politics was seen as a concern Premaratne was still upbeat of growth and investment prospects emphasising that projected 4.5% growth, despite being modest was still positive when compared with similar economies and likely investment increases from the Hambantota harbour deal and port city projects driving FDI.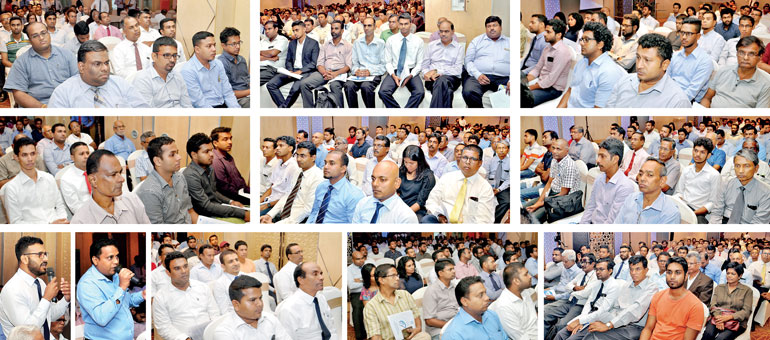 The fiscal consolidation program under the International Monetary Fund (IMF) also came for praise by Premaratne. He noted that improved governance of State-Owned Enterprises and better management of public expenditure along with discussion of stronger economic reform was giving Sri Lanka brownie points to drive up confidence of investors. More action in this area, which the government has indicated with the rolling out of an eight-year policy framework on 4 September, would lead to stronger optimism among investors.

CSE Chairman Ray Abeywardena made the opening remarks at the forum.

The forum included a panel discussion which was moderated by CSE Market Development head Niroshan Wijesundere, comprised of the two presenters, SEC Director General Vajira Wijegunawardane, and CSE CEO Rajeeva Bandaranaike, and paved the way for a constructive dialogue. The discussion mainly focused on implementing the new SEC Act, the current market situation and opportunities and steps taken by the SEC and CSE to develop the market.

The next in the series will be held in Kandy and Galle on 9 September and 30 September respectively.

Pix by Ruwan Walpola