From left: Human Resource Manager Ashan Buddhikorala, Head of Finance Ajith Ranasinghe, Gampaha Branch Manager Sockalingam Varthan, Executive Director and Chief Executive Officer K.M.M. Jabir, Operations Junior Executive Rusiru Prabodh Peiris, Head of Investments Roshan Jansen and Regional Manager Randil Keerthipala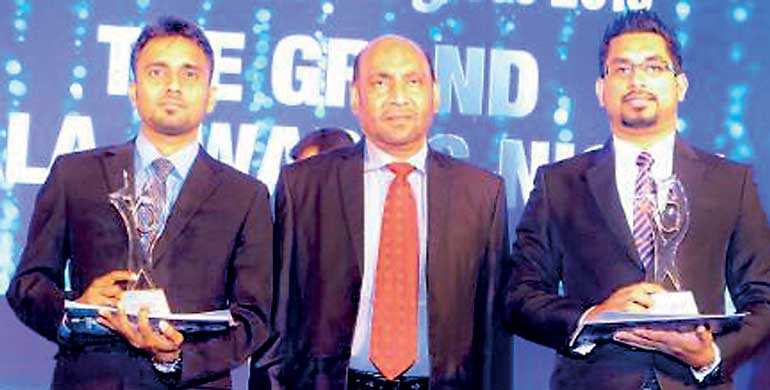 From left: Gampaha Branch Manager and Bronze Award Winner (Sales Supervisor) Sockalingam Varthan, Executive Director and Chief Executive Officer K.M.M. Jabir and Operations Junior Executive and Silver Award Winner (Other Sales Support Staff Non-Executive) Rusiru Prabodh Peiris
Richard Pieris Finance Ltd., the only financial company owned by the diversified conglomerate Richard Pieris Group and proprietor of the household brand Arpico, clinched two awards at the SLIM NASCO Awards 2018 held recently.

Richard Pieris Finance Ltd. won the Silver Award (Other Sales Support Staff Non-Executive) which was won by Rusiru Prabodh Peiris – Operations Junior Executive and the Bronze Award (Sales Supervisor) won by Sockalingam Varthan – Gampaha Branch Manager

"By looking at our performance, we're the only finance company in its fifth year that is winning these awards. Especially it is a huge achievement to win a NASCO award for a finance company that is only in its fifth year. This shows that our directions and goals are set in stone to be one of the top financial companies in the country. It is purely because of the commitment and the quality of our employees. I must also thank our customers for trusting us and striving towards prosperity hand in hand since our inception. We strongly adhere to our slogan of 'Your gain is our goal' and with our committed and dedicated employees along with our loyal customers, our growth is at a steady pace," said Richard Pieris Finance Ltd. Executive Director/CEO K.M.M. Jabir. "The company's growth has been rising, and it's all due to the trust and loyalty we've cultivated with our valuable customers. As we have a deep understanding of customer needs whilst continuously presenting new and innovative products and services, has positioned us in the forefront," he said.

"Since our inception we have long understood the need to keep reinventing ourselves to be competitive in an ever evolving business landscape. This remains our mantra as we strive to better serve our clients by providing profitable products while solidifying our position in the financial sector," Jabir added.

Richard Pieris Finance Manager of Human Resources Ashan Buddhakorala said: "Our employees work tirelessly to do things the right way. These awards exemplify the efforts taken by them to be among the top emerging financial institutions in Sri Lanka."

Services such as leasing and hire purchase, personal loans, fixed deposits/savings, home loans, business loans, supplier financing, Islamic finance/investments are provided for customers through its branch network and new branches are opening around the country in prominent locations.

It also has its own Islamic financial unit known as Arij, an alternative financial option which is a popular service especially in Colombo.

Richard Pieris and Company PLC has accompanied the Sri Lankan people through eight decades of change, and the company has evolved into one of the largest private institutions in the country and stands tall among the ranks of the country's diversified business conglomerates.

With its footprint extending from manufacturing to retail to plantation management and financial services, the group is involved in creating value across the national economy and is one of the most long standing, stable and profitable corporate entities in the country.